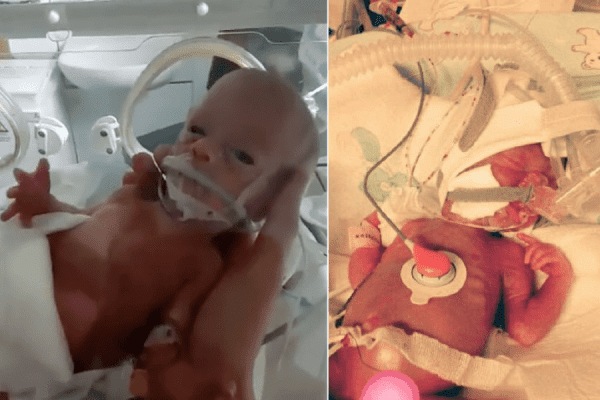 Sophie and Wojtec Czarna were devastated to learn about their serious pregnancy complications.
Doctors told the expecting couple a premature birth was imminent. Not only was their daughter going to be born dangerously early in the pregnancy, but she was also an additional six weeks behind in development.
Amidst the couple's worry and heartache, a special group of "angels" provided a much-needed glimmer of relief.
A scary premature birth
Baby Nadia Jolene Czarna was born 11 weeks early and only weighed 1 pound 2 ounces. Being born so premature combined with other health complications, her survival chances weren't looking too good. Sophie and Wojtec were beyond worried.
Prior to Nadia's birth, a family friend heard about the expectant premature labor - a topic she knows a lot about.
She is a member of Shannon Angel Sisters - an Ireland-based group of volunteers dedicated to bringing comfort and light into the lives of parents struggling through the heartache of having premature babies.
Shannon Angel Sisters
This amazing group of angels volunteer their time and skills to created specialty-sized gowns for premature babies out of old wedding and formal dresses.
"We promise to try our absolute best to ensure that every beautiful baby should have a stunning gown to make their mummy proud," the Shannon Angel Sisters' Go Fund Me page says.
The kind-hearted group knows that finding a gown to fit underweight premature babies can be next to impossible - an added stress to an already difficult time. So, they decided to provide a way to give parents a beautiful, handmade gown small enough to fit their tiny miracle, whether it's for christenings and other ceremonies or for burials.
"Sadly, some babies never even make it to a special care unit and may be born sleeping or gain their angel wings shortly after birth," says the page. "We never want another family to face the devastating task of trying to find an appropriate burial gown for their precious baby in their time of grief."
When the Czarnas received their beautiful, tiny gown for Nadia, they worryingly wondered whether Nadia would wear it for her christening or her burial.
She may be small, but she's a fighter
A week after being born, little Nadia was still alive. To her parent's great happiness, the medical team determined the premature baby was ready to start breathing on her own without the aid of medical equipment.
Nadia was christened in her angel-made dress and was able to snuggle with the blanket, bonnet and tiny teddy bear the volunteers had also made for her.
"Her breathing is amazing and she continues to impress all round her," Sophie said. "We can't be down with all this good news everyday, it's tough, but we are young and designed to pull through these tasks that life throws at us. We are so happy looking at our perfect little girl."
Nadia's Diary
The Shannon Angel Sisters continue to keep up with little Nadia on their Facebook page, making detailed posts weekly titled "Nadia's Diary."
According to the latest diary post, the tiny fighter continues to defy the odds and is up to 1 pound 10.5 ounces. Nadia is also relying on less medical equipment. She even gives her adoring following the cutest little smile.
Real-life angels helping through dark times
"When we create a gown we make two identical keepsake hearts using the same material and trimming that their baby will wear," the Shannon Angel Sisters say. "One of these hearts is placed alongside the baby's heart and one beside the mum's heart. These tiny hearts become treasured keepsakes for parents as they can always hold the same piece of fabric that will forever swaddle their cherished child."
For the Czarna family and every other family who the Shannon Angel Sisters have supported, it's about so much more than just a dress. The gift they receive is shining light of loving comfort and relief in the midst of the darkest of times.