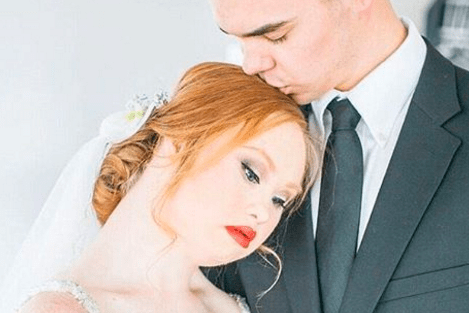 Madeline Stuart, an 18-year-old model, may have just broken a major barrier.
Stuart, who became the first professional model with Down syndrome last year, shared images on her Instagram account of her recent photoshoot in which she wore Sarah Houston bridal wear. As you might expect, social media and the Internet went into a frenzy, supporting the young model for her photos.
Stuart showed her appreciation for people's support in a Facebook post on Friday.
"I created an emotional reaction with my photoshoot. Shoot people it's just a modelline job, how are you going to feel when I actually get married one day. He He He," she wrote.
Stuart's new modeling career began when she walked at New York Fashion Week. After seeing her do it for the second time, Isadora Martin-Dye, owner of the bed and breakfast Rixey Manor in Virginia, contacted Stuart about another modeling job for which she'd wear a wedding dress, hoping it would help dispel stereotypes about how women should look on their wedding day, Refinery29 reported.
"People think about their wedding their whole lives. When you actually get engaged, all you see are pictures of these perfect serene, skinny, women. And while it helps build a brand, it also just builds that wedding myth," Martin-Dye told Refinery29 in an email.
According to The Telegraph, Stuart's photos were a major move for the modeling industry, as her pictures went against what you commonly see among professionals in that field.
"In an unapologetically aesthetics-driven industry in which 'imperfection' is interpreted as a gap between one's front teeth, or being 'only' 5ft 7ins, Stuart is profoundly challenging conventional perceptions of beauty," The Telegraph reported.
But Stuart is far from the only person with Down syndrome to make such a splash in the community. Here are 10 times that someone with Down syndrome broke down conventional barriers in society.
The boy who recited the alphabet
Earlier this year, a video of a 2-year-old boy went viral since the video shows the child, who has Down syndrome, reciting the alphabet to his grandmother, according to Today. This was especially important for the family because the boy had previously shown delays in understanding the English language, something that is common among those with Down syndrome.
"I hope this provides encouragement to any mother out there that may find their child has any kind of delays. There's hope and there's also help," his mother Hannah Sapp Marlin told TODAY. "Early intervention has played a big role in achieving his milestones."
'Glee' star promotes Down syndrome awareness
Actress Lauren Potter played Becky Jackson on the TV show "Glee," a character who, like Potter, had Down syndrome, according to Disability Scoop, a website devoted to news about developmental disability news.
In the show, Jackson struggled to become a cheerleader and was forced to face many high school pressures associated with having Down syndrome. This mirrored Potter's own high school experience.
She told Disability Scoop that she hopes her character will make parents feel comfortable about their child who has Down syndrome, and maybe raise awareness about how often these children are bullied in the real world.
"I think it was a brilliant idea," she said. "It tells Americans that it's really good to have a daughter or son who has Down syndrome."
Sarah Grace and her brother show support
Back in September 2014, child rapper Matty B posted a video on YouTube that advocated for people with Down syndrome, including his sister Sarah Grace. In an interview with WCVB, Matty B said people with Down syndrome, like his sister, are just like everyone else, and deserve to be treated as such by the American population.
Grace also appears in the video alongside her brother.
"Some people at school might pick on her (Sarah) for her needs, but I don't think anybody should be bullied because of what they have," Matty B told WCVB.
These high school students urge for equality
Back in 2014, a group of high school students, some with Down syndrome and some without, posted a video in which they all urged people to offer fair treatment and support for their friends and peers who have Down syndrome, according to Deseret News National.
"We're all so different, but we are all the same in the end. I have 46 chromosomes. I have 47 chromosomes. One chromosome does not define a person. You define you. That makes me, me," said the group in the video.
Those who spoke out on World Down Syndrome Day
For World Down Syndrome Day - celebrated every March 21 - a group of people with Down syndrome spoke out about what they wanted to become in the future.
Some of the children spoke alongside their parents, who also showed their support for their children.
And then there's this video, where those with Down syndrome speak to future moms who may have a child with the issue.
Chelsea Werner - Olympic champion
Gymnast Chelsea Werner's no stranger to success. In fact, she's won the Special Olympics National Championship title four times for her gymnastics skills.
The Today Show featured her in its "unbroken" series, saying that she is a resilient star who continues to succeed despite adversity. She started with gymnastics just to develop more muscle. Now, she said, she uses it to teach those with Down syndrome that they can accomplish their dreams.
Tim Harris broke barriers twice
It wasn't enough for Tim Harris to be the only restaurant owner in the United States with Down syndrome. He may also be the first to leave a highly successful business for love.
As I wrote for Deseret News National back in January, Harris left his successful restaurant so that he could move to Colorado and marry his sweetheart, Tiffani Johnson.
His roadside diner had been known for its positive atmosphere, specifically by Harris who would hug his customers. He plans to do something similar when he opens a new restaurant in Colorado.
The waterboy who scored a touchdown
Noah Van Vooren didn't let his chance at stardom fade away.
Back in 2013, Vooren, who worked as the water boy on his high school's football team in Little Chute, Wisconsin, dressed up in a helmet and pads for his team's final game of the season, according to NY Daily News.
He didn't let it got to waste, either.
Vooren's stardom didn't fade there. He also got accepted into Edgewood College.
Not bad for a child who was told he'd never walk, talk or do anything, eh?
A music video star
Dehvin Brown has Down syndrome, which sometimes affects his ability to dance. But he loves to do it, so he stars in his mother's music videos.
It doesn't matter what the beat is. Brown listens to the tune and dances the night away. His mother, Kenya Flowers, posts them to YouTube to show how he overcame adversity to find his dancing soul.
"Kenya's videos celebrating Dehvin were originally just a way that she celebrated all of her children," Local 12 News wrote on YouTube. "But they've turned into a way for her to encourage other parents who have kids with special needs. I think that it was just letting parents know that no matter what your child has, as long as you're a strong parent and parents with support of family and friends that your child can do anything."
Cinderella girl
There's not a viral news story about this, but YouTube Gloria Pelo helped one young girl break barriers by dressing her up as a Disney princess, showing there are no limits to what those with Down syndrome can accomplish.