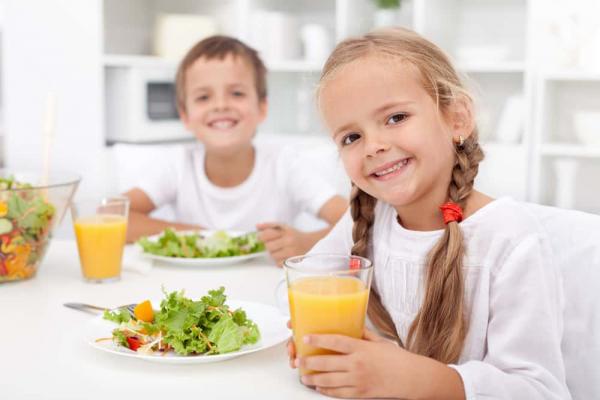 As a parent and a model to children, one of the best things you can do to encourage your kids to eat well is to teach them healthy eating habits by showing them those healthful eating habits. Simple, yes, but easy? Not necessarily.
Here are 10 tips from registered dietitian nutritionist moms to help you encourage your kids to try new foods and to nourish their bodies through food choices and to do so without complicating your life.
1. Take time for meals
If you can eat with your kids, even better! As moms, it's so easy to put our own needs on the back burner, or perhaps use your mealtime for cleaning or other busy work and nibbling here and there. But when you sit to eat a meal three times a day that shows your kids stopping for nourishment is important. -Adina Pearson, RD at Healthy Little Eaters
2. Eat the same foods at your meals
This shows your children that there is no such thing as "kid food" and that they are capable to try and eat any food. It expands their horizons when it comes to food and nutrition. -Brynn McDowell, RD at The Domestic Dietitian
3. Get your kids involved!
From picking out the produce at the store to helping prep recipes in the kitchen, letting my kids help is huge. They are so excited to eat the food we picked out and made together. Sometimes it gets a little messy in the kitchen, but it is worth it to see them learn and develop these cooking skills and eating habits that will hopefully stick with them into adulthood. -Local Utah dietitian, Brittany Poulson, MDA, RDN, CD, CDE of Your Choice Nutrition
4. Have control of what you feed your children but give them choices
Whether it's when you're shopping or planning meals. Also, allow them to decide how much to consume. Kids are great at regulating their intake and this will help set them up to have a healthy relationship with food as they grow up. -Lauren Sharifi, RD LDN of Bite of Health Nutrition
5. Eat together as a family as often as possible
Make meals a time for sharing. In my house, my kids know the kitchen table as the "safe zone" we share and listen without arguing or scolding. Family meals create a sense of security and stability, as well as the time to model nutritious food choices. -Kathy Siegel, MS, RDN, CDN of Triad to Wellness
6. Lead by example
.
Once you, mom, learn how to have a healthy relationship with food, watch how your kids start to accept new foods! All too often, as parents, we are wanting our kids to eat their veggies every time we feed it to them, but they see what we are doing.
If you're skipping meals because you're afraid of weight gain or cooking multiple dinners to try to appease everyone's preference at dinner (like the new diet you're trying out), you're teaching your kids that it's normal to act this way.
In reality, it's only setting them up for the same situation you're in. Once you know that by feeding your body what it needs on a consistent basis, only then are you're being the example for your kids. It all starts with the parents (or whoever is around the children most). -Nicole Eichinger RD, LD of Nutrition's My Life
7. When your family is having dessert, be sure to enjoy some yourself
If you opt not to have any out of concern for your waistline, it sends a message to your kids and they may start to restrict treat foods themselves when they grow older, too.
One exception - if you're genuinely not hungry for the food, say so and make it clear that while you do like (ice cream, cake, etc.) you're not hungry for any right now. Or if you just don't like the dessert - you prefer ice cream over cake, for example - you could make that clear as well.
But be sure you're being honest about it and not using that reason as an excuse when you're really minding your waistline! -Diana K. Rice, RD, The Baby Steps Dietitian
8. Show that veggies are desirable, not obligatory
In our home, vegetables are the desirable dish rather than the obligatory one. I never sneak in vegetables - that would be giving the message that vegetables are undesirable and therefore they should somehow be hidden from our kids. We (the parents) genuinely love vegetables and the kids see this too. Here is a link on Olive Tomato Nutrition on how to help your kids love vegetables. -Elena Paravantes, RDN, Founder of Olive Tomato Nutrition.
9. Have fun with (healthy) food
Take your kids on a farmers market scavenger hunt, invite them into the kitchen to cook with you and present food on pretty plates and in colorful bowls. Ignite your child's senses and enjoy the journey. -Liz Weiss, MS, RD, host of Liz's Healthy Table podcast and blog.
10. Offer a variety of foods
I think it's so important to serve and offer a wide variety of foods, including lots of vegetables and fruit to your kids, but NEVER force them to eat anything they don't want to. It took my kids many years before they would try salad, but now both of my kids, especially my son who is 14, enjoy eating salads for dinner. -EA Stewart, MBA, RD at The Spicy RD
With all these tips and tricks, it's still helpful to recognize that we all have different ways of nourishing our bodies and living healthful lives. There's no one way to feed yourself or your kids, as a parent you have the opportunity to teach your children how to take care of themselves.
Just as you try to be patient with your children as they are learning and figuring life out, do the same for yourself. Those habits don't necessarily mean eating perfectly or any particular way, it means finding ways to nourish your own body that does not add stress to your life but allow you to do feel good and enhance your well-being.