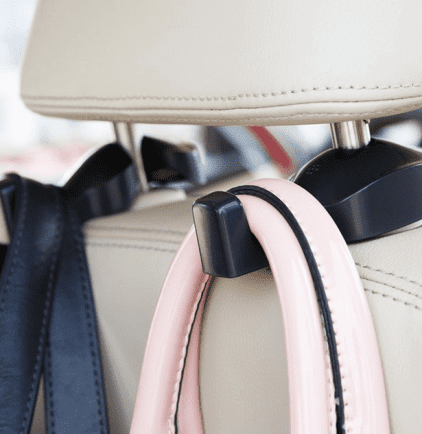 We love these products, and we think you will too! If you make a purchase from our recommendations, we may receive a share of the revenue.
If you've ever been on a road trip, then you know the hassle of piling everyone and everything you own into one car, and trying not to come home with the messier car in the world by the end of your trip. These unique items will help prevent messes, boredom and make for the best road trip you've ever taken:
Massive car charger
Our lives are practically run on electronics. Make sure your batteries are kept full the whole drive by allowing multiple people to connect and charge their phones or other devices with this car charger.
_Buy it: Family Travels Car Charger
Bathroom on the go
Amazon.com : TravelJohn Disposable Urinal Packs for Women, 4.75 x 2 x 4.38-Inch, Pink : Sports & Outdoors
How many times have you been on a road trip in the middle of nowhere and someone needs to use a bathroom? This portable urinal comes in handy for when there isn't a bathroom in sight.
_Buy it: TravelJane
Air vent phone holder
Navigate hands-free with this phone holder. It attaches to the air vent so it's right in your line of sight but still allows you to focus on driving. Reminder: Keep your eyes on the road and do not text while driving.
_Buy it: Car Air Vent Mount Holder
Headrest hanger hooks
These hooks are super handy because they allow you to hang up a garbage bag to throw away food wrappers that would end up between seats and on your floor otherwise. You can also hang bags to hold item you want accessible during your trip; nothing is worse than your phone falling on the ground and having your seatbelt lock up so you can't reach it.
_Buy it: ChriTronic Headrest Hanger Hooks
Back seat cover
Amazon.com : BarksBar Original Pet Seat Cover for Cars - Black, WaterProof & Hammock Convertible : Pet Supplies
If you're traveling with a pet, this is a must have. This back seat cover will give your dog enough space to move around, lounge about and feel completely safe and secure. It will also protect your seats from all the hair your dog is sure to leave behind.
_Buy it: BarksBar Original Pet Seat Cover for Cars
Mesh cargo net
Amazon.com: Mictuning Universal Car Seat Storage Mesh/Organizer - Mesh Cargo Net Hook Pouch Holder for Bag Luggage Pets Children Kids Disturb Stopper: Automotive
Don't let anything fall under the seats with this handy net. This will help keep important items safe and secure where you need them.
_Buy it: Mictuning Universal Car Seat Storage Mesh/Organizer
Loaded Questions
Amazon.com: Loaded Questions On The Go card game: Toys & Games
To avoid boredom on your trip, play a game! Loaded Questions On the Go has 200 creative and playful questions that will spark conversations that are sure to amuse everyone in the car. When the scenery outside is little to be desired, whip out this game to keep everyone entertained.
_Buy it: Loaded Questions
First aid kit
Amazon.com: First Aid Kit For Survival and Minor Emergencies (100 Pieces) Light, Compact, and Comprehensive - Perfect for Home, Auto, Road Trips, Camping, or Any Other Outdoors Activities: Health & Personal Care
No road trip is complete without a first aid kit. In case of emergencies, always have one close by and easily accessible. You never know if someone in your car will get hurt or if you'll meet somebody who needs some help. Always be prepared.
_Buy it: First Aid Kit
A crate full of snacks
Amazon.com : Care Package with 50 Sweet & Salty Snacks, Variety Snack Box for Military Appreciation, Gift Basket of Snack Foods for College Students, (3 Lbs) : Grocery & Gourmet Food
Spare yourself the arguing at the grocery store over which snacks to take. This care package has everything you could need and will last you the whole road trip. Place the crate between all the passengers so everyone can reach their favorite snack.
_Buy it: Care Package with 50 Sweet & Salty Snacks
The classic road map
When Google Maps fails you (this headache is guaranteed if you plan on driving through stretches of America with no cellular service) it's always good to have a road map on hand that will help you get the place you need to go. Props to you if you decide to go on a road trip and do without electronics altogether!
_Buy it: Rand McNally 2017 Large Scale Road Atlas