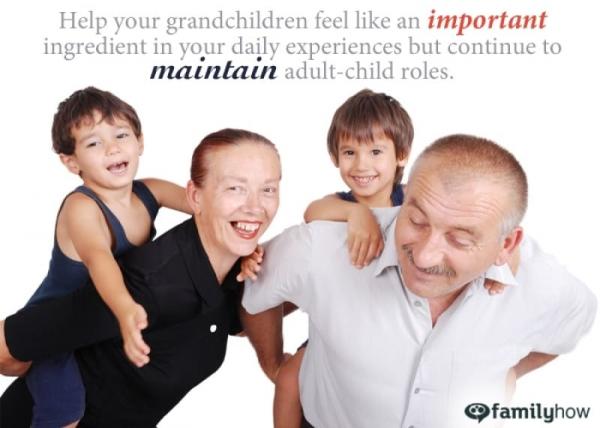 1. Be the first to reach the Candy Land castle. Slide down a chute while your grandchild makes it to square 100 in Chutes and Ladders. Participating in games brings laughter and excitable competitiveness. Childhood board games bond grandparent to grandchild in a challenging and rewarding way. Playing games with little ones requires devotion and disciplined patience. And that means love.
2. My teenage grandchildren love a challenge. Competing with a grandparent is an extra bonus. To be the first to use all their tiles in Rummikub or beat their grandparent in Phase 10 builds a competitive relationship and forms an excellent rapport. This type of entertainment creates laughter and a strong bond.
3. Share childhood photos of your children with your grandchildren. While looking at these photos, tell them about their mom's or dad's childhood experiences. My grandchildren love this story:
When their dad was young he built a teeter-totter out of an old, crude board and a wooden sawhorse. I caught him with his brother and sisters teetering on it in the family room. Luckily they jumped off before it crashed through the large, plate glass window.
4. Laugh with them - listen to them. If they start to talk to you, stop what you're doing and be attentive. Show interest in childhood games and books, their writings and stories, their teen dates, their friends and activities. Attend their school plays, concerts, baseball games and track meets.
5. Play on the floor with the little ones: Race matchbox cars together on their orange tracks. Shoot marbles into cans. Color with them, make designs, or trace pictures from favorite books. Build towers and miniature garages for their toy cars with alphabet blocks. Read stories with them or have them read to you. We love these two: "A Fish out of Water" by Helen Palmer Geisel or "Harry Potter: by J. K. Rowling.
6. Having them show you how to fix a computer problem or operate your new digital cell phone helps them feel needed. They will know you look up to them, and that creates a bond.
7. Take your grandson fishing on the banks of the river. Build a campfire and roast hot dogs and marshmallows. Point out the North Star, the Little and Big Dippers. He's not going to forget this outing with Grandpa.
8. Paint your young granddaughter's fingernails. Put little-girl makeup on her and let her brush your hair. Sometimes my teenage granddaughter paints my nails, creating an exclusive friendship. When great-grandma was sick, her grandchildren painted her nails every week. A bond of love flourished.
9. Make a model airplane with your grandson. Take him to an open field, launch the plane, fly it, do touch-and-go maneuvers and stunts.
10. Teach your granddaughters to crochet. At first make simple dishcloths in bright colors. Visit, watch a movie, or listen to
their music while you work together. Whatever your hobby might be - sewing, working in the garden, or baking - make grandchildren a part of your life.
Help your grandchildren feel like an important ingredient in your daily experiences but continue to maintain adult-child roles.