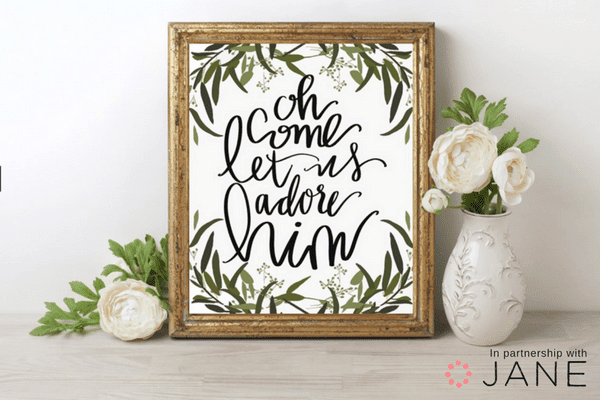 'Tis the season for festive home décor! With holiday parties on the horizon and house guests coming to visit, you'll want to make your home look merry and bright. To help you out, we've got 10 ways to get your home ready for the holidays!
1. Make your mantle merry
It's time to pull out those stockings and hang them with care! In addition to stockings, use some plaques and garlands to give added warmth to your mantel.
2. Usher in the season
Make a grand entrance with an impressive porch display. You can prop up some vintage looking sleds, hang garlands, build a small stack of logs-whatever you want! But there's one decoration that is a must: a wreath on the door.
3. Deck the halls
...with boughs of holly or with adorable garlands of holly! They're great for wrapping around your stairwell or hanging in your hallway to make every spot in the house feel festive.
4. Whip up some holiday magic
The kitchen is a perfect place to store some fun mugs for coffee, hot cocoa, and tea (really anything to warm you up). Add some peppermint sticks and whipped cream to win over any guest.
5. Deck out your dining room
Now is the time to bust out a red, white and green tablecloth (or if you're a fan of cooler colors, a wintery gray and blue look lovely). To give your dining room a rustic feel, use a wood slab as a centerpiece and place mason jar candles on top. All that's missing is the food!
6. Trim those trees
Who says you only can have one tree in the house? Be a rebel and make your own rules. In addition to your main tree, sprinkle a few other trees throughout your home (in the guest room, on bookshelves, etc.).
7. Collect some cozy covers
Let's be real, your guests will spend most of their time in your living room, and what better way to make the room cozy than with pillow covers? With so many happy holiday prints to choose from, you can't go wrong! Your guests will feel right at home - and in the holiday spirit.
8. Brighten up your bathroom
Don't forget to add a touch of holiday spirit to your bathrooms. Use a mini poinsettia, red and white towels, candles, pine branches and a cute holiday themed soap dispenser to add some much appreciated Christmas cheer.
9. Break out those seasonal scents
There's nothing better than the smell of pine, cinnamon, gingerbread - you could go on forever. Let your guests choose their favorite candle and fill the house with those sweet scents.
10. Use prints a plenty
Prints are a fave holiday decorations because they can be put anywhere. Hang a few on the walls of your living room, prop a few up on your bookshelves, display a few in your kitchen-the great part is you don't have to choose just one place!
And to get the perfect holiday décor (at 70% off!), check out Jane.com's holiday selections!