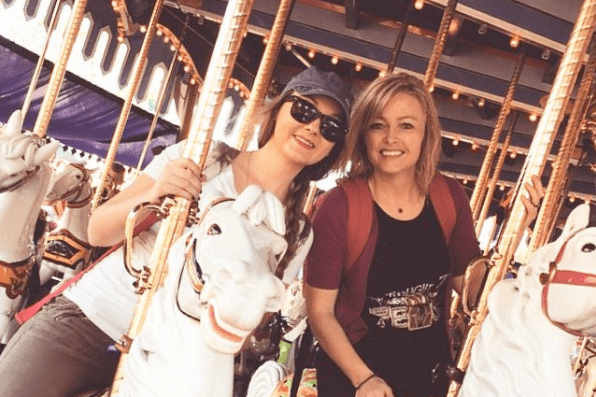 Everyone says they have the greatest mom in the world, but I truly believe mine tops them all. She's the best mom and my best friend.
Growing up with my parents and three little brothers, my mom and I were the only girls in the house, so we have a special bond. And just like any strong mother-daughter duo, we have a lot of things and moments we share.
If your mom is your best friend, you'll know exactly what I mean.
1. She's your constant friend
From preschool to present day, I've gone through a lot of friendships that didn't last. Sometimes it was discouraging when friends came and went, but my mother was always there for me.
When your mom is your best friend, you can make it through all those other broken friendships. You'll always have her, so you'll never be friendless.
2. You have special things you do only with each other
For me and my mom, we are huge Harry Potter geeks. Ever since I was six years old, we've been reading the books out loud to each other, having movie marathons and drinking lots of Butterbeer during our frequent visits to the theme parks.
3. You never miss a chance to spend time together
One on one time with my mom is a treat, even if it's just running an errand together. We don't live too far away from each other, so frequent visits are a must.
As best friends, time with your mom is more valuable than anything. You probably even make excuses to drop by, give her call or go out together.
4. You can act goofy around each other
Some of my favorite moments are when my mom and I just let go and had fun together. It makes for hilarious memories and great pictures.
It's easy to let loose around your mom when the two of you are so close. After all, isn't that what best friends are for?
5. You're not embarrassed to go out with your mom
I've been to more concerts with my mom than with anyone else. One time someone noticed and scoffingly asked - "you go to concerts with you mom?" My response? "Of course, she's the best concert buddy there is."
She's your best friend - of course you're going to go out together and do things a pair of friends would do! Some people might be embarrassed to be seen hanging out with their mom in public, but for you, it's completely normal.
6. You're her cheerleader (and she's yours)
Whether I was playing city league basketball, graduating or choosing a career, my mom was always my number one cheerleader. And though I wasn't able to be there for things like her own graduation, I'm there to support her when she needs me.
Whatever stage you are in life, you're there to cheer each other on. You encourage each other's goals and are there for support through all of life's challenges.
7. Trips together are the absolute best
In addition to being best friends, my mom and I are travel buddies. New York, Amsterdam, London, Paris and Disneyland are among our favorite trips - they were so much better because we were looking at the Mona Lisa and riding Space Mountain together.
Whether you and your mom take lots of trips or not, the trips you do go on together are some of your best life experiences.
8. Birthdays and Mother's Day are extra special
My mom always makes a huge deal out of celebrating my birthday, and I do the same for hers and Mother's Day. We go all out with presents, surprises and even birthday trips.
Because she's such an important person in your life, of course you want to make their special day the best it can possibly be.
9. Leaving each other is so hard
I vividly remember the night my mom dropped me off in my freshman dorm room. I was moving out for the first time, and it was so hard to say goodbye (it was hard to say bye to my dad and brothers too ... but it was especially difficult to say goodbye to my mom).
Best friends just aren't meant to be apart, so when one of you goes away, good luck holding back the tears when you leave.
10. She's the best shopping buddy
I hardly go a day without wearing a piece of clothing I bought shopping with her. She stops me from buying things I'll regret and always finds the best deals.
[block:true|](https://www.instagram.com/p/35FsTMOqP3/?taken-by=kenna_lee')
When your mom and your best friend are the same person, could there possibly be a better shopping buddy?
11. You're a mama's girl and proud of it
If your mom's your best friend, you'll probably get accused of being a momma's girl. Wear that title proudly, because there's nothing to be ashamed of loving your awesome mom.