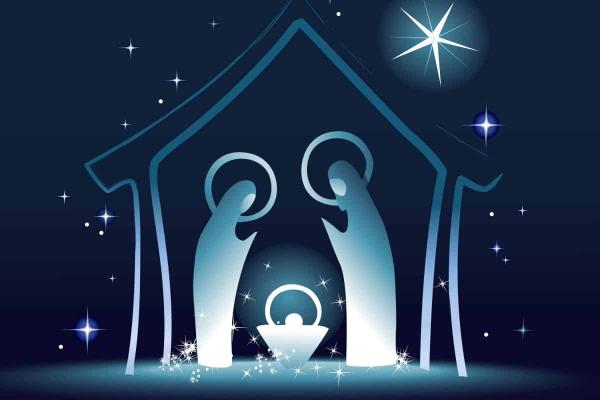 Christmas is the perfect opportunity to remember the Savior and enjoy time as a family. However, in the midst of shopping for presents and making other preparations, remembering the true meaning of Christmas can be difficult to do.
To make it easier, here are 12 fun, family activities that will help you put Christ back into Christmas:
Day One: Remember Mary, mother of Jesus
"And, behold, thou shalt conceive in thy womb, and bring forth a son, and shalt call his name Jesus." (Luke 1:31)
Begin your 12 days of Christmas activities with where it all began: Mary, mother of Jesus. Watch this "Mary Did You Know". Discuss the life of Jesus Christ with your children and why his birth is important.
Finally, make a special treat for your neighbors and deliver them secretly with the "Mary Did You Know" gift tag (free printable in the link below).
Click here for step-by-step instructions for Day One.
Day Two: Proclaim the Savior's birth
"And suddenly there was with the angel a multitude of the heavenly host praising God, and saying, Glory to God in the highest, and on earth peace, good will toward men." (Luke 2:13-14)
This activity revolves around the proclamation of the the Savior's birth to the world. Study the scripture above and brainstorm ideas how your family can proclaim the Savior's birth in your own lives.
For example: Create a fun family activity such as taking a family photo with a printable sign that hold's your family's proclamation message, such as "The Stewart's Rejoice #ASaviorIsBorn."
Click here for step-by-step instructions for Day two.
Day Three: Sing hallelujah
"Serve the Lord with gladness come before his presence with singing." (Psalms 100:2)
Sing out loud in rejoicing as a family by discussing how music can bring the Christmas spirit into our lives. Go caroling in your neighborhood or a local retirement home.
Click here for step-by-step instructions for Day Three.
Day Four: Read about the Savior's birth
"For unto you is born this day in the city of David a Savior, which is Christ the Lord." (Luke 2:11)
Cuddle up with your little ones and read some of your favorite Christmas books. Print out a bookplate (included in the link below) and write the reasons why you are grateful for Jesus.
Click here for step-by-step instructions for Day Four.
Day Five: Love like the Savior
"A new commandment I give unto you, that ye love one another; as I have loved you, that ye also love one another." (John 13:34)
Help your little ones understand that we can help many people in need when we love like the Savior. Create a service jar and fill it up with your extra change each month. Donate the money to a local charity of your choice.
Click here for step-by-step instructions for Day Five.
Day Six: Picture a Savior is born
"And she brought forth her firstborn son, and wrapped him in swaddling clothes, and laid him in a manger; because there was no room for them in the inn." (Luke 2:7)
Teach your children about the different characters in the Nativity story. Talk about how each character was a witness to the Savior's birth and why that is significant. You can print out a fun Nativity memory game and sit down and play with your children.
Click here for step-by-step instructions for Day Six.
Day Seven: Create a link to God
"Whosoever believeth that Jesus Christ is born of God: and every one that loveth him that begat loveth him also that is begotten him." (1 John 5:1)
Watch the video a "A Savior is Born" and discuss the different names of Jesus Christ and how they help us understand his many roles. Then create a paper chain with his names mixed with the names of your family to symbolize that Christ is the link between God and us.
Click here for step-by-step instructions for Day Seven.
Day Eight: The good shepherd
"I am the good shepherd: the good shepherd giveth his life for the sheep." (John 10:11)
The Bible teaches us that Christ is the good shepherd. Discuss as a family the ways he looks after his sheep.
Take two candy canes and form a heart. Discuss how the red symbolizes the blood of his sacrifice and the white is the purity of his love. Create your own candy cane decoration.
Click here for step-by-step instructions for Day Eight.
Day Nine: Away in a manger
"Saying, Where is he that is born King of the Jews? for we have seen his star in the east, and are come to worship him." (Matthew 2:2)
Play the game "Move the Magi (wise men) closer to the manger" with your children. Tape the Maji throughout the house where they can be easily found. Have your children search for them, and when they find one, have him or her move it closer to the manager. On Christmas' Eve they should arrive at the manager.
Click here for step-by-step instructions for Day Nine.
Day Ten: A gift from the heart
"And when they were come into the house, they saw the young child with Mary his mother, and fell down, and worshipped him: and when they had opened their treasures, they presented unto him gifts; gold, and frankincense, and myrrh." (Matthew 2:11)
Discuss the scripture above and invite each family member to ponder on what gift he or she would give to the Savior. Have them consider giving different gifts from the heart. Then create a unique origami box and write the gift ideas on a piece of paper to place in the box.
Click here for step-by-step instructions for Day Ten.
Day Eleven: Light cometh to the world
"Then spake Jesus again unto them, saying, I am the light of the world: he that followeth me shall not walk in darkness, but shall have the light of life." (John 8:12)
Discuss with your family how Jesus is the light of the world. Then decorate a glass jar to place a candle inside and then pass the candle around saying one way you can be more loving and caring like Jesus.
Click here for step-by-step instructions for Day Eleven.
Day Twelve: Let Earth receive her king
"Art thou a king then? Jesus answered, thou sayest that I am a king. To this end was I born, and for this cause came I into the world, that I should bear witness unto the truth." (John 18:37)
Try to make Christmas Eve a night when the family can focus on the Savior. Discuss how we can eliminate distractions for the Savior in our life. Then look for a basket and place a "Silent Night" tag on it, and place all electronic devices in the basket.
Click here for step-by-step instructions for Day Twelve.
Be sure to download the entire day-by-day pennant activity set today—for free!