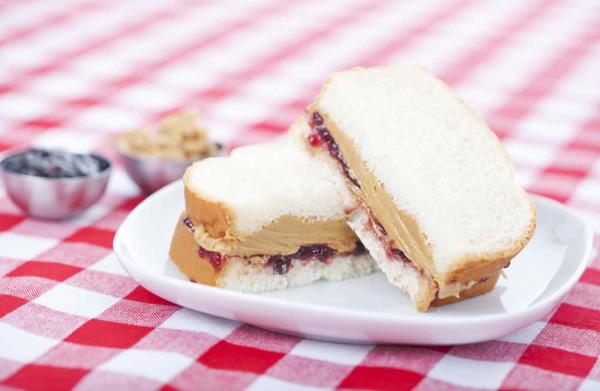 The peanut butter and jelly sandwich is a childhood staple; but in all honesty, it could use a little bit of an update. Test out a new version tonight for dinner, or toss a reimagined PB&J into a lunchbox tomorrow for a yummy surprise.
Just add bacon
Yes, it seems odd to add meat to a sweet sandwich; but it is delicious. This very sophisticated PB&J adds some elegant ingredients, perfect for a playful dinner party. Peppered bacon adds a spiciness to the sweet jelly and pomegranates add a tangy, juicy factor that balances with nutty peanut butter. Who knew PB&Js could be so fancy?
Iron it out
Ever thought about smashing that perfect sandwich into a waffle iron? You should; because when you do, the jam and peanut butter get all warm and gooey ... and extra delicious. Oh, and the bread also gets crunchy and golden, which is hard to resist (Points for finding state-shaped waffles).
Cookies
Need I say more? The combo for a sandwich is nice, but it makes for an awesome thumbprint cookie.http://www.thecandidappetite.com/2011/11/23/pbj-cookies/
Bread is optional
As it turns out, using bread isn't even a requirement. We all know that bananas go perfectly with a smear of peanut butter, but some genius restaurant out there took that flavor combination to a whole new level by using banana bread instead of white bread. The world thanks you.
PB&Japanese Style
Delicious and adorable should be the way to describe every lunch. Roll up your peanut butter and jelly sandwich like little sushi rolls and pack with chopsticks for an extra fun lunch (don't forget a chocolate dipping sauce!).
Ingredient swap
Peanut butter is great, but so is salted almond butter or cashew butter. Jelly is grand, but so is fig jam, or orange marmalade. Don't be afraid to play around with it all! Add a dash of cinnamon, or some thinly sliced apples or bananas and you've got quite the sandwich.
Uncrusted
Kids will agree with me when I say sometimes the crust gets in the way of the peanut butter and jam goodness. Problem solved with DIY Uncrustables. Make ahead and stash in the freezer for mornings when you are running out the door.
B is for breakfast
Peanut butter isn't just for lunch; turns out, PB&J makes a great oatmeal (And it looks awfully pretty, too).
Crunchy and caramelized
Basically, a spicy pepper jelly atop sweet and crunchy caramelized bananas should be next on your PB&J to-do list.
Fruit, not jam
Skip out on some sugar by adding fruit slices instead of jam to your PB&J. You'll get some added texture and sweetness, but without all the sugar. Try sliced apples, berries, pomegranates or pears, or whatever else tickles your fancy.
Double up
Don't limit yourself by just adding peanut butter and jam to a sandwich. Add in a layer of mascarpone cheese, cream cheese, or even Brie to add a layer of sophistication and deliciousness to your next sandwich.
An apple a day ..
Bread really isn't an integral part of an updated PB&J sandwich. Try spreading apple slices with peanut butter and jelly for your own bread-less PB&J.
Grab and go
For mornings that are a little short on time, grab a peanut butter and jelly granola bar in lieu of a sandwich. You'll get the same awesome flavors, but without the hassle or stickiness.
As one study reports, you'll eat about 1500 PB&J sandwiches before you even turn 18. Have some fun with your food and put a twist on a classic.