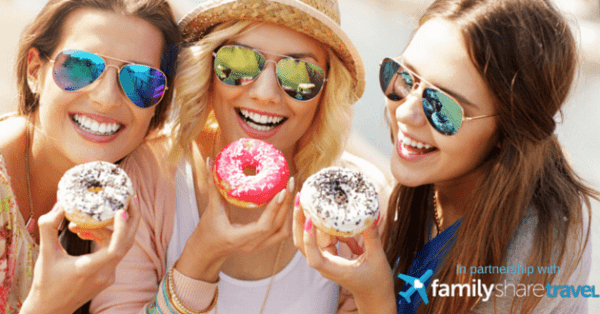 You've been dreaming of this vacation all year. Maybe it's an excursion abroad, a relaxing weekend at your family's cabin, or a getaway to the beach and sun. Whatever trip you have planned or want to plan for the future, you already know that it's going to cost you a little money...or a lot.
The price of a short trip adds up fast, with the hotels, rental cars, flights...add in food expenses and your vacation almost seems too expensive to be worth it. No fear, though! You can find ways to save on food if you know the right tricks. Here are 14 tips guaranteed to help you eat cheap on your trip, while still eating well.
1. Try outdoor vendors and street food
In some places around the world, street food is the best authentic food you'll find. It will fill you up fast and for less money, plus you'll experience a less touristy part of the culture at the same time.
2. Kill two birds with one stone
Not literally of course (I mean, it is a cheap food idea). I'm suggesting eating where you can also experience the culture, like with street food. Going to a fair, taking a cooking class, or going on a food tour all can get you out to experience the heart of the culture you are in, while also feeding you. This way, you'll only have to pay once for twice the experience.
3. Eat where the locals do
Foreign food is usually more expensive than the local cuisine. So if you're not eating pasta and pizza in Italy you should first, reconsider your life choices, and second, stop spending your money on food you can get elsewhere. Ask the hotel concierge or locals where the best and cheapest places are off the beaten track.
4. Eat more big meals, less snacks
The little snacks add up fast, so schedule in one bigger meal and don't snack throughout the day. The bigger meal may cost a little more, like if you go to a buffet, but you won't be spending as much small change on filling yourself up the rest of the day.
5. Research beforehand
When you're walking around starving on vacation, don't fall into the trap of choosing the closest or most convenient option rather than the cheapest. You might be surprised what you find with a little research! San Diego, for instance, has plenty of expensive places to eat, but if you do your research, you'll find many smaller places further from the tourist spots that can give you quality food for under $10!
6. Look for discounts and deals
A part of your research, along with looking for which restaurants are the cheapest, you should be looking online for discounts and coupons. Various sites, such as groupon.com or sites for a specific region, like lafourcette.com for French restaurants, offer as much as 50% off, so that you can eat well and cheap on vacation, even with a large family!
7. Choose your location well
Some areas naturally have more expensive food choices than others, but generally college or university towns will have cheaper food. Nearby shops and restaurants want to bring in as many poor college students as they can, and thus are more likely to be offering deals.
8. Make friends with the locals
There isn't an experience that quite compares with eating in a local's home when visiting another culture. If you don't know anyone living in the area you are visiting, start up a conversation with someone in a park or at an event. Or check out websites like eatwith.com for avenues of finding people who know how to make authentic food, for a cheaper price than eating at a restaurant.
9. Stay at places with complimentary breakfasts
This seems like common sense for cheaper traveling, but be sure to eat foods that are going to fill you up so you don't snack as much, like more proteins and fruits rather than the cereals. Be on the lookout for less expensive bed and breakfasts especially for a fun experience that feels more like home.
10. Skip out on soda, drink water instead
Carry a refillable water bottle, this will save you tons of money! If you're buying soda or water multiple times a day, you could be spending over $60 per month abroad. If you're worried about the water quality, buy a portable water filter.
11. Have a grocery store picnic
It's often cheaper to go to the local grocery store and make your own sandwich rather than buying one made for you. Check out especially the ethnic and smaller grocery stores rather than the larger, chain stores for a cheaper buy.
12. Look for places with lunch specials
Some restaurants offer lunch specials, with just as good of food as dinner meals, but at almost half the price. Have lunch be your big, filling meal of the day when you find these places with cheaper lunches.
13. Eat tapas style
If you are going to eat somewhere nice, consider eating tapas style. An idea originating in Spain, this is where everyone in your group orders small dishes, just larger than an appetizer, for a lighter meal. If everyone in your party gets a different plate, you can share your tapas and have more variety and a pretty filling meal for a smaller price.
14. Check out the markets
Like with other street foods, outdoor markets are sometimes the best places to find authentic food from that culture (that's healthy, too!). Plus it's cheaper than sitting down at a restaurant. Most cities will have websites that list markets' schedules. Again, you'll have to plan ahead so that you hit the markets when they're open. Some cities, like San Diego, have markets nearly every day, so you can get something unique, delicious, nutritious, and cheap for your whole trip! Want to see the San Diego markets yourself? See the deal here!
One of the best ways to experience a culture is through its food. Don't sell yourself short on eating well while traveling, and know that it IS possible to eat well while eating cheap. Good food doesn't have to be expensive. Like with anything good in this life, you just need to know where to look.