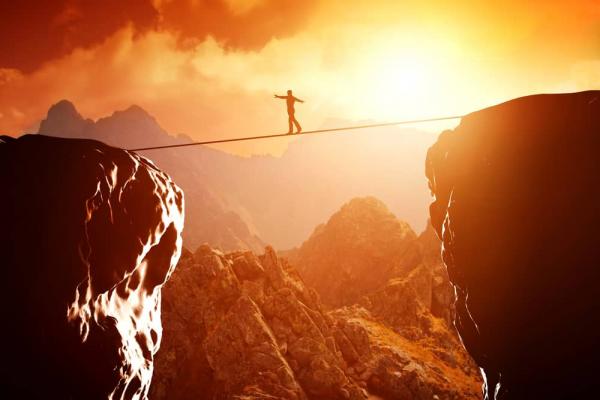 We all have our doubts and fears from time to time. Doubts tend to sneak up on us when we are at our most vulnerable. In times of overthinking, we begin to question everything we have always trusted to be true. Is God really there? Can He hear me? Where do I go from here? When in doubt, here are fifteen verses to help you gain control of your life, revive your faith in God, and find courage within yourself.
Proverbs 3:5-6
"Trust in the Lord with all thine heart and lean not unto thine own understanding; in all thy ways acknowledge him and he will direct thy paths."
Deuteronomy 31:6
"Be strong and of a good courage, fear not, nor be afraid of them: for the Lord thy God, he it is that doth go with thee; he will not fail thee nor forsake thee."
Psalm 23:4
"Yea, though I walk through the valley of shadow of death, I will fear no evil: for thou art with me; thy rod and thy staff they comfort me."
Luke 1:37
"For with God nothing shall be impossible."
Joshua 1:9
"Have not I commanded thee? Be strong and of a good courage; be not afraid, neither be thou dismayed: for the Lord thy God is with thee whithersoever thou goest."
Psalm 28:7
"The Lord is my strength and my shield; my heart trusted in him, and I am helped: therefore my heart greatly rejoiceth; and with my song will I praise him."
Psalm 16:8
"I have set the Lord always before me: because he is at my right hand, I shall not be moved."
Isaiah 41:10
"Fear thou not; for I am with thee: be not dismayed; for I am thy God: I will strengthen thee; yeah, I will help thee; yeah, I will uphold thee with the right hand of my righteousness."
2 Timothy 1:7
"For God hath not given us the spirit of fear; but of power, and of love, and of a sound mind."
Philippians 4:13
"I can do all things through Christ which strengtheneth me."
2 Corinthians 5:7
"For we walk by faith, not by sight."
John 15: 16
"Ye have not chosen me, but I have chosen you, and ordained you, that ye should go and bring forth fruit, and that your fruit should remain: that whatsoever shall ask of the Father in my name, he may give it to you."
Exodus 14:14
"The Lord shall fight for you, and ye shall hold your peace."
Psalm 61: 2-4
"From the end of the earth will I cry unto thee, when my heart is overwhelmed: lead me to the rock that is higher than I; For thou hast been a shelter for me, and a strong tower from the enemy."
Matthew 21:21-22
"Jesus answered and said unto them, Verily I say unto you, If ye have faith, and doubt not, ye shall not only do this which is done to the fig tree, but also if ye shall say unto this mountain, Be thou removed, and be thou cast into the sea; it shall be done; And all things, whatsoever ye shall ask in prayer, believing, ye shall receive."
To overcome the burden of doubt, consistently strengthen your faith through prayer and study. Before you get lost in fear of the unknown, remember why you believed and had faith in the first place. Find that faith again and trust in the many good things to come. Through faith, doubt and anxiety can lessen, and life becomes a blissful journey.