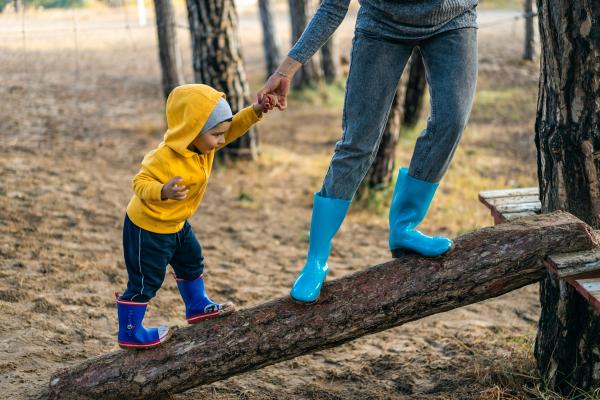 There is just something so special about raising boys.
Their energy is endless, their humor is infectious, and their strength is mind-blowing. Boys are such a joy to raise, and a mother's bond with her son is like no other.
But raising a son isn't always easy and is filled with lots of challenges. There will be both highs and lows like a roller coaster, but the journey is so rewarding.
It's crucial to find the joys of raising your son to help him become a strong man.
Spend time cooking and eating together. Help nurse him back to good health when he is sick. Teach him how to be a gentleman. Enjoy your wild adventures together. Raise him to be a warrior with strong family values and a good work ethic.
Your son will make your days bright when they seem dark.
You will surely smile after reading these inspiring quotes if you are expecting a son or raising one.
Use them in your next social post bragging about your son's latest accomplishment or on your letter board in your office.
1. "And she loves a little boy very, very much, even more than she loved herself."
-Shel Silverstein
This might be one of the best quotes about sons and also the most accurate. Even when they drive you up the wall, you would still do anything to see their smile. Their smile is like a ray of sunshine that makes you the proudest parent.
2. "Sons are the anchors of a mother's life."
-Sophocles
Another accurate quote. Boys who have a healthy relationship with their mothers are more secure and confident in life. They can relate better to women and will be a better fathers for their children.
3. "You can't scare me, I'm a boy mom."
-Unknown
This one is so funny because it's true. Boys will challenge you in ways you never thought were possible. They will give you panic attacks with their Evel Knievel stunts and rowdy ways. They will also gross you out with their bug obsessions and all things weird.
4. "You don't raise heroes, you raise sons. And if you treat them like sons, they'll turn out to be heroes, even if it's just in your own eyes."
-Wally Schirra
Having a healthy relationship with your son and providing him with a nurturing environment to grow will set the stage for his future. He needs love and kindness, and respect to be the man you want him to become.
5. "Do I want to be a hero to my son? No. I Want to be a very real human being. That's hard enough."
-Robert Downey Jr.
Do not be afraid to make mistakes in front of your kids. They need to know you don't expect perfection, and nor can you exhibit it. Part of life is about making mistakes and learning from them to grow.
6. "One of the greatest gifts you can give your teenage boy is the gift of letting him know you get it. You've been there."
-Sebastian R. Jones
Be relatable when your son hits his adolescence. You know how hard being a teenager is. Let him know you are there if he wants to vent or talk about anything. Don't ever judge him either, or you risk him shutting down, which causes psychological damage.
7. "When you teach your son, you teach your son's son."
-The Talmud
Provide your son with values and lessons he will instill with his son down the road. Everything you say or do can be passed to the next generation. Give them the very best of what you have learned in life.
8. "Son, you will outgrow my lap, but never my heart."
-Unknown
Your son may get too old for some things, but he will always be your baby in your heart. Even when he becomes a parent, you will still want to be there helping guide him as you see him as the little boy you raised.
9. "I'm thankful for my son's laughter. It's the sound of all that's right in the world."
-Unknown
There is so better sound in your home than your son's laughter. His cries will make your world crumble, but oh man, that laughter is like music to your ears.
10. "That strong mother doesn't tell her cub, Son, stay weak so the wolves can get you. She says, toughen up, this is the reality we are living in."
-Lauryn Hill
The strength a son knows comes from the wisdom of his parents. Share your knowledge on everything from relationships, philosophy, and life. He could learn a thing or two from your own mistakes you may have made in life.
11. "His little hands stole my heart, and his little feet ran away with it."
-Unknown
The moment you lay eyes on your son it's over. You will become wrapped around his finger for the rest of your life.
12. "To my dearest son, I want you to know that forever you will be in my heart no matter the distance. I love you!."
-Unknown
This one needs no explanation. No matter how near or far your son is, the love will always be the same.
13. "A son is a mother's most precious treasure."
-Unknown
A mother will go to great lengths to protect her son. Never mess with a mama bear.
14. "A man loves his sweetheart the most, his wife the best, but his mother the longest."
-Irish Proverb
The first love of a boy's life is his mother. Set the standards high and show him how to give and get respect from women.
15. "Happy is the son whose faith in his mother remains unchallenged."
-Louisa May Alcott
You play a more prominent role model in your son's life than you may realize. He is always watching you.
Having a son will change your life in the best ways, and you should soak up every moment because it goes by so fast. They will go from being wrapped up in your arms listening to you soothe them to sleep with lullabies to starting a family on their own in the blink of an eye.