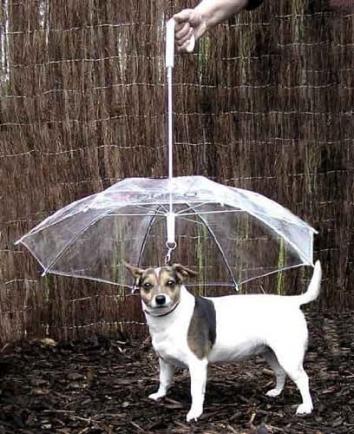 Whether you're a cat owner or a dog owner, we all have one thing in common: We love our pets and can't imagine life without them. That being said, you could make your life a bit easier by testing out some of these amazing pet products below. The items on this list range from practical to downright hilarious and strange. So, without further ado, here are 15 epic products that every pet lover would love to have in their life:
1. Hands free retractable dog leash
The "Lishinu Retractable Hands Free Dog Leash" takes walking your dog to a whole new level. Now you can do all kinds of things like jog, answer your cell phone, carry items or tie your shoe without having to worry about holding the leash in case Baxter tries to make a break for it.
Cost: $39.99
2. Tennis ball launcher
You love playing fetch with your dog, but hate the part where you have to repeatedly pick up a ball that is drenched in saliva. Forget donning rubber gloves and get the "Hyper Pet K9 Kannon". This pet product launches regular size tennis balls up to 75 feet and is designed for hands-free pickup.
There are also other options for similar products if you want to spend a bit more money or find something of higher quality.
Cost: $16.92
3. Pet umbrella
Hate the smell of wet dog or the anxiousness of a wet cat? A pet umbrella is a simple invention that is exactly what it sounds like-an umbrella designed specifically for your pet. It has a built-in leash hook and a handle that is easy to grab. Your dog might not really care about this product all that much but you'll undoubtedly be your cat's hero.
Cost: $6.22 & free shipping
4. Pirate pet costume
Yes, this does exist and you need it. The "TOPSUNG Cool Caribbean Pirate Pet Costume" works for cats and small to medium sized dogs. This pet costume is better than most because the arms stick out and are positioned in a hilarious pose, unlike most costumes where the arms just dangle. This is a great item for holidays, parties and fun photo shoots.
Cost: $10.90
5. Dog water bottle
Bringing around a water bowl when you are out and about with your pet is annoying. Well, now you can ditch the bowl because the "Gulpy Water Dispense" makes it easy for your pet to get a drink on the go. Similar products work even better if you're willing to spend a little more.
Cost: $10.25
6. Collapsible travel pet bowl
The "Leegoal Folding Collapsible Travel Pet Bowl" is ideal for any dog who loves to roadtrip. This product can hold both food and water, is easy to clean and folds up for portability.
Cost: $3.98 & free shipping
*[Read: 4 things you eat after a breakup that tell the truth about your broken heart[(http://familyshare.com/health/4-things-you-eat-after-a-breakup-that-tell-the-truth-about-your-broken-heart)*
7. Pet tracker
This little device takes the worry out of tracking down a lost pet. The "Pawscout Smart Tag" attaches to your pet's collar and allows you to use your phone to locate your lost dog or cat within a 200 foot radius. The tag is waterproof and the app required to use the product is free.
Cost: $29.95
8. Pet peek
The "Pet Peek (Pet Fence Window)" is like a mini porthole for your dog. Now, they can see what's going on without jumping up or trying to climb over the fence. The product is made of a durable material that is easy to install and keep clean.
Cost: $112.98
9. Misting leash
This isn't your grandmother's leash. The high-tech "Hyper Pet Cool Down Doggie Leash" sprays an ultra-fine mist when you squeeze a trigger on the handle. The refillable 10-ounce water bottle attached to the leash makes this a must-have item for the hot summer months.
Cost: $5.99
10. SUP pup traction pad
Within the last few years, stand-up paddleboards (SUP) have become a popular hobby. Thanks to "Better Surf...than Sorry's Pup Deck SUP Traction Pad", you can enjoy this fun water activity without leaving your dog behind on shore. The traction pad fits on any sized paddle board and can even be used on regular surfboards.
Cost: $39.95
11. Dog life jacket
Now that you can take your dog with you on your paddleboard, consider purchasing a dog life jacket. The "EzyDog Micro Doggy Flotation Device" is a high-performance doggy flotation device for dogs less than 15 lbs. It is designed to have a secure and ergonomic fit around the canine body. For bigger sized dogs, check out the "Ruffwear K9 Float Coat."
Cost: $32.40 or $79.95 depending on the weight of your dog.
12. Inflatable unicorn horn for cats
If you cat isn't down to wear the pirate costume, look into getting him or her an "Accoutrements Inflatable Unicorn Horn for Cats". This is definitely one of those items that is both strange and hilarious...and totally necessary.
Cost: $5.64
13. GoPro Dog Harness
With the "GoPro Fetch (Dog Harness)" you gain an entirely new perspective as you look at the world from your dog's point of view. The harness is washable and has quick release bases to make mounting your GoPro a cinch. Straps allow the harness to fit on your dog's chest or back.
Cost: $35.29
14. Pet backpack carrier
Take your four-legged pal anywhere you go with the "K9 Sport Sack". These pet backpacks come in different sizes to accommodate various breeds and are great for any outdoor activity.
Cost: $59.95
15. Cat Hammock
This is the perfect item for anyone who is tired of their cat chillin' in weird places around the house (like inside your front-loading washing machine). The "Cat Crib" fits under virtually any chair and is the perfect place for your cat to relax after a long day of...relaxing.
Cost: $23.99
Show your pet some love and give one of these a try!