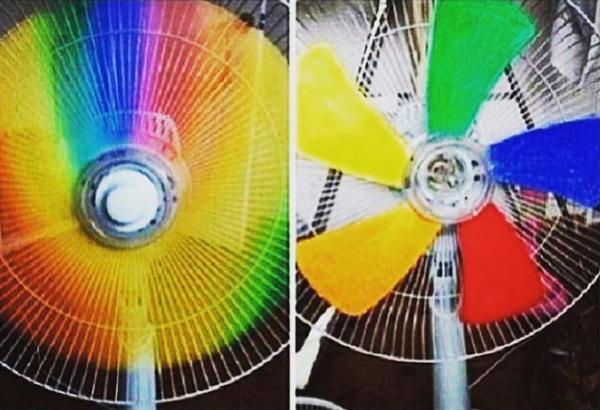 Parents, be prepared to earn some serious points with one of these colorful crafts. While all very colorful, these crafts are also fit for all ages since most require very little effort on your part, and some are even educational (but don't tell the kids that!). With a couple ingredients, you are looking at an afternoon full of laughs and learning - all without turning on "Frozen" for the umpteenth time.
Colorful calculations
"Let's practice your math!" is way less fun than, "Can you beat me at this rainbow game?" Snag a box of colorful cereal (like Fruit Loops), a pair of dice and a few pieces of construction paper and you are set to play this game. Your little kiddo will need to roll the dice, add up the numbers (3+2=5) and place 5 red cereal pieces on the red paper. Next, roll the dice for the orange paper (you get the picture). Go through the rainbow, then have your child add up the total number for some extra math practice. Even if your kids aren't ready to for addition, you can still play the game, just roll one 1 to determine how many cereal pieces get placed on the colored paper.
Fizzing rainbows
A little baking soda and some Kool Aid goes a long way when it comes to fun. Your kids will love lining up tiny cups of the powders then squealing with excitement when squirting the cups with water to produce a foaming rainbow. How fun is that?
Perfectly pretty pops
While your crafts are fine to contain loads of food coloring, your afternoon snack probably shouldn't. Let nature naturally color the rainbow with these whole fruit ice pops. They are both pretty and delicious...Yum!
Marker magic
If you've wondered how to get your child to sit quietly for 30 minutes without any electronics, here you go. This coffee filter craft allow a ring of color to slowly travel up to the top, creating a blossom of color that's captivating to watch. You and your kids will love the result...though you might enjoy the quiet a tad more than your kids.
Rainbow slime
Slime might be the way to a kid's heart. Mix up a colorful batch and let them play for hours. There's aclassic recipe that might be better for older children, because it contains ingredients that aren't tummy-friendly. For younger kids that might want to eat the slime, try outthis edible recipe.
Fun fanfare
For days when the weather is making it too hard to play outside, try this DIY craft. Pieces of bright felt on the blades of a fan make a gorgeous and slightly mesmerizing effect once the fan is turned on.
Rainbow Play Dough
If you have never made your own Play Dough, now's a good time to start. You and your kids can create this quick and colorful version in a snap. You'll need to be the parental supervision when it's cooked over the stove, but the rest can happily done by your child. Dye a few batches the colors of the rainbow, and watch your child create for hours.
Rainbow rice
Remember this? Bring this classic school craft home for hours of sensory play. Add food coloring and rubbing alcohol to grains of uncooked rice and mix until evenly colored. After dying a few batches, pour into a big storage container and add in some pots, spoons, and measuring cups and watch your kids play their little hearts out.
Sensory sand
Brightly colored, and oh so fun to play with, your kids won't miss the television when this sensory sand is around. Pull out a rolling pin and some cookie cutters to help them start their own bakery, or add in some tractors for a DIY construction site.
Density rainbows
This is another one of those sneaky science lessons. Kids pour in 7 liquids of various densities (and colors) into a bottle, and watch as the liquids naturally separate and create a rainbow effect. Turns out science is very cool (and very pretty).
Sponge art
Bring some color to classic sponge art. With an artful swipe, your kids can create rainbow after rainbow. Sneak in a mini lessonabout colors by asking one of the questions blogger Emma asks at the end of the activity.
Rainbow pots
If paintbrushes are a bit too fussy for your child, let them pour the paint straight onto the craft with these beautifully bright terra cotta pots. The pouring technique creates the neatest pattern on the pot and encourages kids to be creative and a little messy.
Colored pumpkins
Don't let black and orange get all the fun when it comes to Halloween. This crayon splatter trend as finally made it to pumpkins with stunning results.
Confetti paint
Yes, paint is already colorful but adding in some confetti really makes things pop. This blogger has a few darling DIY's when it comes to paint, and has a few edible recipes if you are worried about little one's tasting their creations.
Rainbow sidewalks
Sidewalk chalk is fun, but squirting sidewalk chalk out of bottles is way more fun. The chalk dries with a smooth texture, but fizzes and bubbles when later sprayed with vinegar. Use this paint to practice the alphabet, spelling, or numbers to encourage some creative learning along the way.