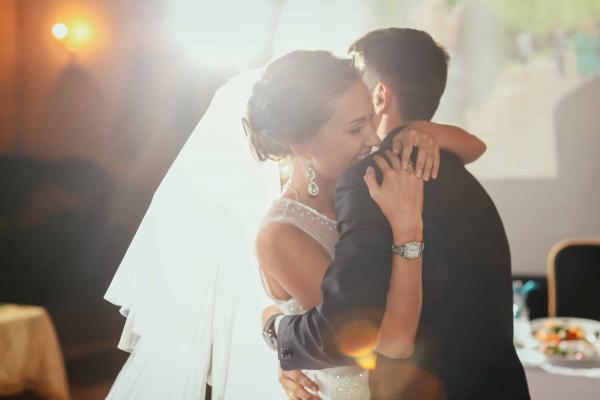 Wedding season is in full swing, which means couples may have to make one of the hardest decisions of their special day: to hire a band or a DJ.
Deciding on what kind of music you want to bring to your wedding's dance floor can be difficult, according to The Knot, a website that releases an annual survey about the costs of weddings. Music's impact on a wedding is unlike anything else, as it affects the entire vibe of the ceremony and reception.
"No doubt about it: Music can make or break a wedding celebration. It's the heart and soul of a reception and can send your guests home with happy feet - or pained grimaces!" according to The Knot.
Not only do wedding music choices affect the vibe of the entire event - party music gives off a dancing vibe, whereas swing seems a little more classic - but it can also impact how much you plan to pay for the wedding. DJs can cost less than bands, The Knot reported, but prices vary. Live music can sound pretty sweet when your heels are clicking against the floor, but DJs often offer a variety of music, including many of today's hit songs.
That's why The Knot suggests couples listen to both potential bands and DJs before they decide which they want to have at their wedding. It's especially important for couples to present their first dance song to both the band and DJ so they can see which one sounds better when played.
In fact, having more specifics about the music they want played can help, too.
"Know that all professionals should be open to your likes and dislikes," according to The Knot. "Give them your personal request list, songs they must (play), and, perhaps more importantly, a do-not-play list. Worried that you'll hear the 'Macarena' at your once-in-a-lifetime event? Specifically prohibit the playing of a song you feel strongly about in your contract."
But that also presents its own issues: Deciding on which songs and type of music you want to play at your wedding. Luckily, there are plenty of resources out there to help you determine which songs are suitable for your ceremony.
Back in June, FiveThirtyEight's Walt Hickey offered the "ultimate wedding playlist" - a collection of the most popular songs used for wedding receptions, as submitted by users. Leading the list was "Hey Ya!" by OutKast, followed by "I Wanna Dance With Somebody" by Whitney Houston and "Uptown Funk" from Mark Ronson and Bruno Mars.
Meanwhile, Billboard magazine recently asked wedding DJs from 13 different American cities to send in their most-played songs, which was headed by "Uptown Funk," "Shake It Off" by Taylor Swift and "Shut Up and Dance" by Walk the Moon.
Similarly, back in 2014, The Knot released its own top hottest wedding songs for the year, which included ones used for the first dance, like "All of Me" by John Legend.
To give you the best idea of which wedding songs to play at your wedding, we've taken all three lists and picked our favorites. Here's a look at the 17 best weddings songs for you to use this year.
"Hey Ya!" - OutKast
This placed first on FiveThirtyEight's list with 69 setlist appearances.
"I Wanna Dance With Somebody" - Whitney Houston
This had 57 appearances on the submitted lists to FiveThirtyEight, and it placed fifth on Billboard's list.
"Uptown Funk" - Mark Ronson ft. Bruno Mars
This was the most-played song on Billboard's list and third on FiveThirtyEight's chart.
"Shout" - The Isley Brothers
This was the fourth most-played song on FiveThirtyEight's list and placed 10th on Billboard's rankings.
"Crazy in Love" Beyonce ft. Jay-Z
This old school hit landed at No. 5 for FiveThirtyEight.
"Don't Stop Believin'" - Journey
This was the eighth most-popular song from Billboard and sixth most played for FiveThirtyEight.
"Billie Jean" - Michael Jackson
This song was tied for seventh on FiveThirtyEight's list.
"Get Lucky" - Daft Punk
This song was also tied for seventh on FiveThirtyEight's list.
"Shut Up and Dance" - Walk the Moon
You can't escape this song at weddings. It was the third most-played on Billboard's list and the 10th most played on FiveThirtyEight.
"Sweet Caroline" - Neil Diamond
Of the people who submitted their playlists to FiveThirtyEight, 36 featured this song. You have to wonder if these included spouses with the name Caroline.
"Happy" - Pharrell
This was the 18th most-popular song on FiveThirtyEight's playlist and 15th for Billboard.
"We Found Love" - Rihanna
Rihanna's smash hit ranked 18th on FiveThirtyEight's playlist, too.
"Call Me Maybe" - Carly Rae Jepsen
One-hit wonder? Not for weddings. It placed 20th on FiveThirtyEight's playlist.
"Can't Stop the Feeling!" - Justin Timberlake
JT's song is all the rage at weddings these days. It placed fourth on the Billboard playlist. Not surprising.
"September" - Earth, Wind & Fire
You'll definitely hear this one at weddings. It was the sixth most-played according to Billboard DJs and the 11th highest on FiveThirtyEight.
"Thinking Out Loud" - Ed Sheeran
What a classic song to slow dance to. It placed 16th on Billboard's charts.
"I Gotta Feeling" - The Black Eyed Peas
This was the 19th most-popular song, according to Billboard.