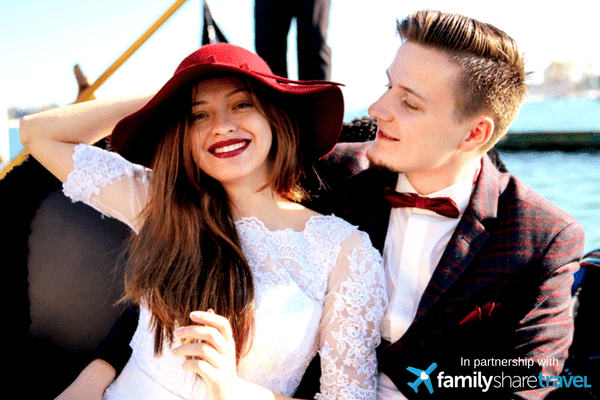 Getting married was the first adventure. Now you have an adventure buddy to experience the world with and that can only make your adventures even more exciting.
1. Kiss on top of a Ferris wheel
It doesn't get cuter than that.
*[Read: 4 things you eat after a breakup that tell the truth about your broken heart[(http://familyshare.com/health/4-things-you-eat-after-a-breakup-that-tell-the-truth-about-your-broken-heart)*
2. Crash a wedding
It's the perfect blend of rebellion and romance.
3. Re-enact a movie scene in public
How about "An Affair to Remember" or "Sleepless in Seattle" on the top of the Empire State Building?
4. Stay up all night
The question is what are the two of you going to do all night?
5. Lock your love
Tradition says that if you and your lover write your names on a lock and throw away the key, your love will last forever. Find a place to lock anywhere from New York to Las Vegas.
6. Have a fictional adventure
Stay in all day will a cozy blanket, two mugs of hot cocoa and binge read a book together. You could be adventuring in Hogwarts or Narnia.
7. Eat at a fancy-dancy restaurant
Go somewhere that requires a reservation a month in advance and is a black-tie affair.
8. Win big
You have to win something, whether it's tickets on the radio or a $5 return on your quarter in a Vegas slot machine.
9. Take a gondola ride
Traditionally, gondoliers require you to kiss your honey when you go under a bridge. If you can't make it to Italy, take a ride here.
10. Have a fake fight
Stage an argument in a public area. The first one of you to crack loses.
11. Camp on the beach
Fall asleep to the sound of rolling waves as you cuddle in your cozy couple's sleeping bag.
12. Learn to cook
Take a cooking class together and become experts at filleting steak or puffing pastries.
13. Go stargazing
And wish on shooting stars.
14. Go to a farmer's market
Who hasn't wanted to be one of those couples strolling through a farmer's market on a Saturday morning sampling organic cheeses and buying bouquets of sunflowers?
15. Climb a mountain
Nothing is as satisfying as conquering a mountain and relishing the beauty of the view from the top.
16. See a Broadway production
There's nothing like seeing it live in the city that never sleeps.
17. Watch the sunrise
You can't get more classic than watching a sunrise or sunset.
18. Go somewhere neither of you have been
Experience somewhere that is new to the both of you.
19. Make out in the ocean
That's hot.
20. Go on a spontaneous trip
Pack your bag and go. Now.
FamilyShare Travel is an excellent source for great deals on the adventures you and your hubby want to take. See the deals here.