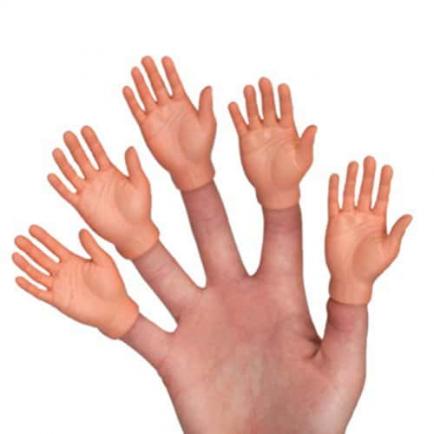 We love these products, and we think you will too! If you make a purchase from our recommendations, we may receive a share of the revenue.
The season of giving gifts is soon upon us. Amazon, as always, is full of crazy and cool gifts to give. So if you're in a slump and don't know what to give, check out these 20 awesome items:
Little panda bank
A cute panda steals your money!
Get it for $12.99
Unicorn farts
I hear they taste pretty good.
Get it for $9.99
Light-up gloves
Perfect for cold, dark nights out on the town.
Get it for $12.99
Baby mask
The perfect mask for pranks.
Get it for $11.99
Live worm farm
Who wouldn't want to have live worms for a pet?
Get it for $28.95
"Hands" finger puppets
Who couldn't use an extra hand?
Get it for $12.95
Remote control tarantula
The best pranks involve spiders.
Get it for $28.99
Mystic emoji ball
Forget the Magic 8-Ball; This emoji will tell you all you need to know.
Get it for $8.95
Pikachu onesie
Perfect for playing Pokémon Go.
Get it for $15.70
Fence window for pets
They're always watching ...
Get it for $31.76
2-D Bag
It's totally real.
Get it for $21.90
Crayon rocks
Pretty rocks you can draw with!
Get it for $29.95
3-D butterfly wall decals
Life-like butterflies to brighten any room.
Get it for $6.99
Mustache birthday candles
Who doesn't want mustaches on their birthday cake?
Get it for $5.96
Donut soap
The only donut you don't want to eat.
Get it for $11.00
The alarm clock that will actually get you out of bed in the morning
It will roll around the room and beep until you get up and turn it off.
Get it for $39.99
Darth Vader toaster
Choose the dark side.
Get it for $39.99
A mug with a hoop
Marshmallow basketball for the win!
Get it for $24.00
Dinosaur soup ladles
Making soup has never been more entertaining.
Get them for $5.84
"Don't touch" useless box
Every time you flip the switch, the little tiger hops out and turns the box off. Hours and hours of endless fun!
Get it for $53.77
Be the best gift giver of the season and buy these before they're gone!