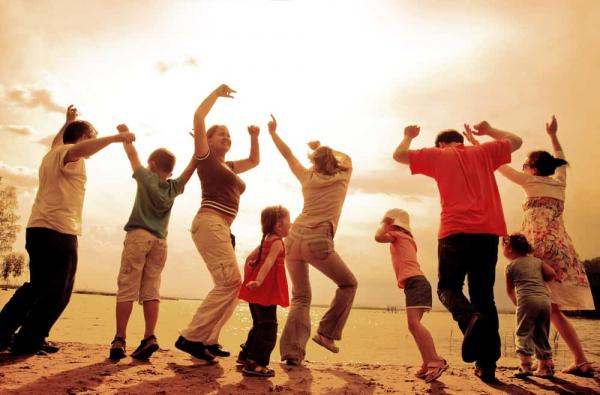 For the most part, being in a big family is awesome! You always have someone to hang out with, and there is never a dull moment. But it can also be crazy, chaotic and down-right annoying at times.
Here are 25 things everyone from a big family can relate to
Eating out is a rare occurrence. Getting fast food is a treat, and eating anywhere else is the coolest thing ever.

Someone makes cookies, but those round pieces of heaven are gone by the end of the day. Sometimes your mom even makes you ration them out so everyone gets an equal amount.

You can't all fit in one car. But you squeeze into one car anyway.

You do everything you can to be different from your siblings.

If Mom buys something special at the grocery store, you must eat all you can now because tomorrow it will all be gone.

You can play any sport and form 2 teams consisting only of family members.

You can't remember the ages of your siblings, and sometimes you forget their birthdays.

Teachers at school say, "There are more of you?!" Then they continually compare you to your older sibling and call you by his or her name.

You make your own school lunch starting in kindergarten. Independence is a necessity.

Quietness feels wrong. What's happened? And why is no one laughing, crying or screaming?

People you've known for years think one of the kids is just a friend.

Once in a while a child is forgotten. School. Soccer practice. Church. It happens.

You have secret hiding places for your treasures and Halloween candy. You even set booby-traps to catch any thieves.

Hand-me-downs. Woot.

Sometimes you feel like your family is a circus act getting out of the car-kids just keep coming out.

Having your own room is your ultimate dream. You know exactly how you're going to decorate and arrange everything when that day arrives.

You're in trouble, but Dad goes through every child's name until he gets to yours, and then you just start laughing.

All of your clothes and possessions are marked with your initials.

All the kids gang up on the parents to make them get a pet. And then another one. And another.

Birthday parties with friends are limited to every other year, and you make sure your siblings know they are not invited.

Everything is a competition. Report cards. Running home from the bus stop. Sitting shot-gun. Choosing the movie. EVERYTHING.

Chaos feels normal.

You're excited for a big welcome home after returning from your first year at college. But no one remembered you were coming.

Once everyone starts leaving home, you send out a weekly email because there are too many people to keep up on the details of your life.

You can't imagine your family being any different, and you want a big, crazy family of your own one day.