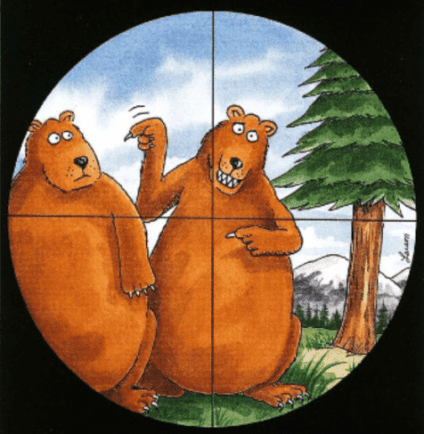 Remember the good ol' days when real books were a thing? Well, Gary Larson sold MILLIONS of them full of these hilarious comics. He called his series "The Far Side."
What follows is a nostalgic journey for you as well as a great comic starter pack for your kids, who have yet to experience Larson's fantastic wit.
If you find yourself laughing as you scroll, share these with your friends.
1. Natural selection
2. Don't look behind you
3. The birth of science
4. We've all done this
5. It makes sense
6. Little did they know
7. Ambitious spiders
8. Pranksters
9. Some kids never grow up
10. I knew it
11. The obligatory "bad guy" music
12. For the hipsters
13. The secret life of cows
14. The moment they'd all been waiting for
15. Well, that's awkward
16. An unfortunate cultural misunderstanding
17. Me next! Me next!
18. He doesn't make typos
19. A flight they'll never forget
20. When husbands go missing
21. Bob wasn't afraid to make tough decisions
22. It was a good idea at the time
23. If you make it to the finals, they add a lion
24. If "The Count of Monte Cristo" were a short story
25. Trying out the new cookbook
26. Bad luck
27. When the scientists come around
28. They're getting smarter
29. Leroy hasn't slept in weeks
Share with your friends to give 'em a little blast from the past!