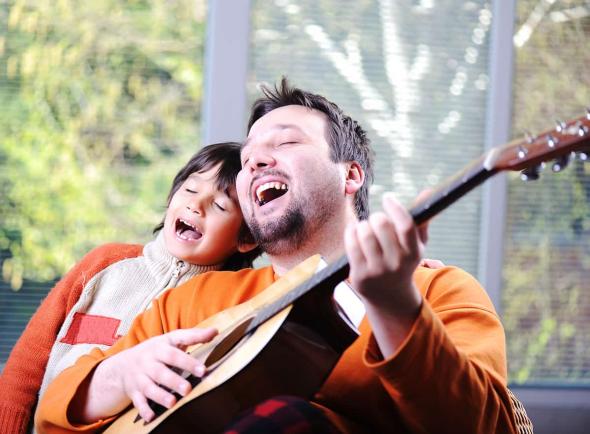 Several years ago I met a woman who changed the way I thought about music. She was probably in her 80s, vibrant and full of life. Every time I visited her, the first thing I heard was classical music blasting through her home. She would be dancing around, conducting an imaginary orchestra and humming along. She always said that music was meant to be experienced in the foreground of our lives. For me, it had been more of a distraction.
While I'm sure the reason she played her music at full volume had something to do with her hearing loss, the feeling behind her appreciation of music stuck with me. She had learned how to use music to enhance her life in many ways, a lesson I've been trying to implement in my own life and family.
Countless studies have been done on the various ways music affects humans, animals and even plants, and the results can make it seem like a magic pill. Research has shown that the right types of music can help remove stress, reduce depression, improve cognition and memory, calm anxiety and even aid in physical healing. The great thing is, this magic pill is available to everyone, and it can help create peace and harmony in the home. Here are a few ways to do so.
1. Use music to improve your mornings
I know the way I start my day is usually how the rest of the day will unfold. If I'm not functioning at top form, the peace in my home can quickly dissipate. If you wake up with low energy and struggle to get out of bed, try waking up to your favorite upbeat tunes instead of an alarm. On the other hand, if you wake up stressed, thinking about everything on your plate, soothing music can help calm you and make it easier to face the day.
2. Incorporate music into your family time
Because positive music can elevate mood and change how we perceive the world around us, this could work even with moody teenagers who might not want to hang out with the family. Choose music the whole family can enjoy and sing along with, and crank up the volume while making dinner, completing household chores, or working in the yard. Invite children to share their favorite music with you, or to share their own musical talents. Attend musical events together as a family. As our family spends time bonding together over music, tension disappears and we smile more.
3. Worship with music
Whatever ways your family worships, whether you gather to pray and study together or spend time outdoors communing with nature, music can enhance these efforts and increase feelings of peace and spirituality in the home and with individual family members. Ask them to share those songs that inspire or uplift them and add those to the collection of music your family listens to during worship, or just play them whenever you feel the need to increase peace in your home.
Music is a gift we can use to enrich our lives. Its positive effects on the brain can lift our spirits and increase peace and harmony in the home.