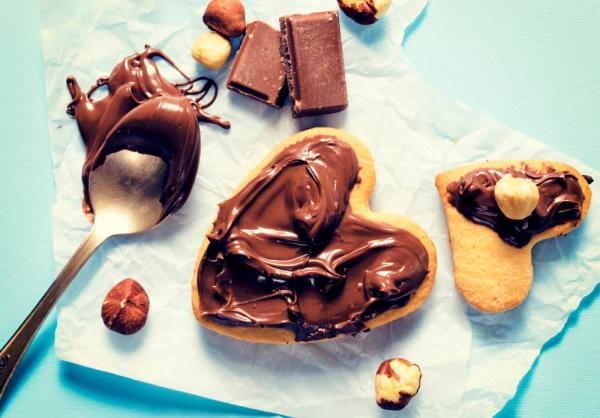 Do you and your kids love Nutella?
You may be used to slathering the yummy hazelnut spread on toast and pancakes, but there are a host of other ways to get your Nutella fix. Here are four easy-to-make Nutella snacks your children will love you for. Better yet, let your older children make some for you!
Nutella popsicles
This perfect recipe for warm summer days is as easy as can be. Mix ⅓ cup of Nutella with 1 cup of milk. Then pour the mixture into popsicle molds and freeze for a couple of hours. For a creamier popsicle, add 2 cups of Cool Whip to the mixture. Cold and satisfying!
Nutella hot chocolate
For colder days, use a similar recipe to make a cup of hot chocolate. All it takes is 1 cup of milk per person and as much Nutella as you want. In a medium-sized saucepan, pour half the milk and a couple spoonfuls of Nutella for each serving (more if you want). Warm and mix until well blended. Then, add the rest of the milk and stir until hot. Pour into a mug and enjoy! Mix up this recipe by adding different spices. Try topping with whipped cream - or that children's favorite: marshmallows!
Four Ingredient Nutella Mug Cake
Want cake without having to heat up your oven on a hot day to bake a whole one? Don't worry. You can make a Nutella cake in the microwave. Just whisk together ¼ cup Nutella, ¼ cup flour, ¼ teaspoon baking powder, and 3 tablespoons milk in an oversized mug until the mixture is smooth. Cook it in the microwave on high for 1 minute. Test with a toothpick or knife. If it comes out clean and the top looks cooked and not gooey, you're done! If not, cook for another 20 seconds. Let cool completely and try topping with frosting before you enjoy it right in the mug!
Nutella cookies
If you're willing to heat up the oven, try making some easy Nutella cookies. Just mix up 1 cup of Nutella, 1 egg, and 1 cup of flour. Drop by rounded tablespoon onto a cookie sheet and bake for 6-8 minutes at 350 degrees. You can also use this recipe to make Nutella brownies. Just add another egg and spread the mixture into a greased 9x9 or 9x13 pan and bake at 350 degrees for 15-20 minutes (or until a toothpick comes out clean).
Bonus: Make your own Nutella
If you're not excited about additives in the commercial product, or if you just want to try making your own, here's an easy video tutorial to help you make your own Nutella.