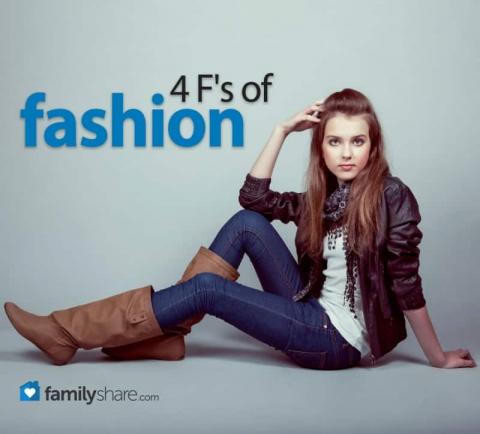 I remember holding my newborn baby in my arms. All I could think about was getting her home and dressing her in all those cute outfits. One of the great pleasures of having a girl is being able to play "dress up" vicariously. However, all too soon, your baby is a "big girl" who wants to do it herself.
Ultimately, we want our children to be able to develop their own personal style. Teaching our teens the Four F's of Fashion will help them learn how to choose attractive and appropriate clothes.
Function
. The first thing we need to teach our children is that clothing needs to be functional. It is important to choose clothes that will do what we want them to do. You should consider:
Occasion
We wear different clothes for different occasions. What might be appropriate for a football game doesn't quite work for a job interview. We can teach our children the same principle. Start when she is young. Have some outfits for school and some for play, some for warm weather and some for cold. Let her choose from the appropriate options.
Expression
Clothes are an important part of the first impression we make on people. What do we want them to say? I'm fun, I'm professional, I'm conservative, I'm bold. Clothes can say all this and more.
Esteem
We all want to wear clothes that make us feel good about ourselves. Our teens get so many negative messages during the day, their self-esteem can take a real beating. Help your daughter choose clothes that will give her self-image a boost.
Attraction
Let's face it. Your teenager is interested in the opposite sex. And she wants them to be interested in her, too. However, it's important that you teach her how to attract boys in the right way and for the right reasons. National Geographic News reports that sexy women in bikinis really do cause men to see them as objects. In the study, brain scans showed that when men were exposed to pictures of scantily clad women, the region of the brain associated with tool use lit up. By dressing a bit more modestly and leaving more to the imagination, your teen can attract a boy's attention but still make sure his entire brain is engaged.
Fit
Fit is the most important thing to look for if you want to look good and feel great in an outfit. If clothes are too tight, even skinny girls will look like an exploded biscuit can. If they are too loose, it will look like she might be hiding a circus tent in there. You want your daughter to feel comfortable in her clothes. Take into consideration your daughter's body type. Teach her to appreciate her body the way it is and choose clothes that will enhance her natural beauty. ShopYourShape.com is a great resource for learning how to dress your body type.
Flexibility
Your daughter's wardrobe doesn't have to be huge to be great. Help her choose clothes that she can mix and match to create different looks. Denim, black, white and navy are all neutral colors that go with anything. Buy key pieces like blue jeans, a black skirt and a white T-shirt first. Then you can add that leopard print blouse or neon yellow capris that she has her eye on.
Flair
This is the fun part. It's time for your daughter to express her personality. Is she an artist? Outgoing and adventurous? Then she might want to experiment with bold colors and prints. Is she more natural and bohemian? Then she might choose earthy tones and textures.
Have fun with accessories. A little bit of jewelry, handbags, shoes and scarves can all enhance an outfit. You can take a plain white T-shirt and jeans and add a scarf and boots, and you'll have a fantastic look. Encourage your daughter to experiment to find what she likes best.
Maybe she's not your little girl anymore. That's OK. Sharing your passion for fashion can still be a lot of fun.