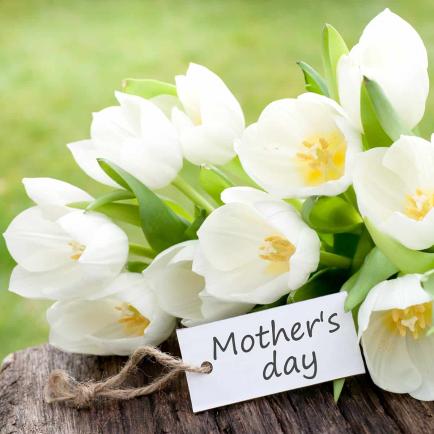 Mom.
The woman who brought you into this life.
The woman who loved you throughout childhood.
The woman who kissed your "owies" to make them better.
The woman who rocked you read stories to you and tucked you in at night.
The woman who bathed, clothed and fed you.
The woman who laughed at your jokes.
The woman who cried upon dropping you off for your first day of kindergarten.
The woman who cried when you graduated high school.
The woman who fought for you to have a good life - your biggest advocate.
The woman who makes a house feel like a home.
The woman you call for advice when life gets rough.
Once a year, we have a special day to celebrate - a day that is all about the beauty of being a woman and a mom. In reality, one day isn't enough. Special things should be done to say "thank you" to Mom throughout the year - every year. But this day in May is extra special. It's the day the whole family comes together to treat Mom like the queen she is.
When shopping for gifts, it's all too easy to find something simple and cool and make a split-second decision. There. Decision made, shopping done.
In this way, holidays have become over-commercialized. Sometimes the focus of the holidays gets lost in the midst of the chaos (shopping, buying) surrounding it. Giving and receiving gifts is fun. Giving a gift is a great way to spread the love. However, to really give the gift that says, "I love you" takes time and effort. I'm not saying don't purchase gifts. I'm saying make the gifts count. Mom deserves it.
If you're looking to make this Mother's Day memorable, here are four tips:
1. Give the gift of "me-time."
Moms don't get enough time for themselves. They give, give and give, and they love unconditionally. Moms need time for themselves. It will help them keep their sense of identity and maybe make the world feel a little less crazy.
What does Mom like to do? Does she enjoy sitting out in the sun? Does she enjoy curling up to read a good book? Does she like to bake? Paint? Watch movies? Play sports? What's her favorite show?
Give her something that says, "I know you. And I love you. Take some time for yourself. You deserve it." That could be a subscription to her favorite magazine. Or that pair of sunglasses she has been eyeing. Maybe her favorite book or her favorite author's latest book. A new cookbook. New paint or drawing tools. A good movie. A season of her favorite show. Give her something pertaining to her interests so she gets her well-deserved me-time.
2. Use your talents to make something for her
Moms love handmade gifts. It shows her you put time and energy into creating something wonderful for her. If you're good with woodworking or home repairs, you could build "that thing" she has been wanting for the house. You could paint or draw her a picture. Make your own card. Write a letter or poem. Sing a song you wrote.
3. Make it sentimental and thoughtful
Whatever you do, the more thought you put into the gift, the more love she will feel from it. A simple gift such as flowers, a book, jewelry can go a long way with a well-thought, handwritten card.
4. Make her favorite meal
Or just make her a meal. If her favorite meal seems too complicated, the fact that you are even making a meal for her will help her feel special. Add a beautiful family dinner to the fact that she doesn't have to cook and her night will be set. As long as you don't forget about dessert.
Mother's Day is a special day for women across the globe. If you follow these simple tips, you can make it special for the women in your life.