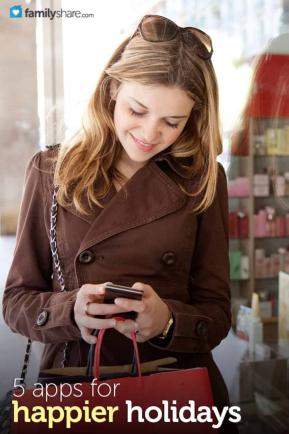 Christmas decorations make their debut earlier and earlier every year in stores and shopping malls. At first glance all the glitter and sparkling lights get me giddy inside, like a child waiting up for Santa. Then reality kicks in and suddenly, I'm in full holiday stress mode and it's only October.
There was a time when Christmas meant leisurely shopping for your loved ones, making handmade gifts and being with family. It's true things are a little more complex today, but that doesn't mean you can't have your fruit cake and eat it too.
If you need a little sanity this Christmas and into the New Year, here's how to keep things simple and stress free with 5 apps for happier holidays.
1.
Dinner Spinner: free.
Meals offer the perfect opportunity to socialize with family and neighbors. Enjoying dinner and any form of chocolate definitely makes my holidays happier. The problem is, I love the finished product, but don't like the planning.
Dinner Spinner brings your favorite meals from allrecipes.com right to your mobile device. No more wandering the aisles at the grocery store wondering what to bring to the family potluck. In minutes, Dinner Spinner gives you access to thousands of rated and reviewed recipes. You can search for recipes by dish type, ingredient or give your phone a shake for instant inspiration. This app even lets you create a shopping list or enter dietary restrictions.
Take it for a spin and let the meals practically plan themselves this holiday season so you can spend more time with the ones you love.
2.
Remember the Milk: free.
One of the biggest holiday stressors is simply too much to do in too little time. Your schedule is planned down to the minute for the next week or two and there are still things that keep coming up. Grab more giftwrap, wash the sheets before the in-laws arrive, fix the section of lights that are hanging down over the garage.
Even with meticulous planning, it never seems to end. For those random, last minute things, you need Remember the Milk. Separate your to-do items by category and view tasks near your current location so you're not driving all over town and back just to get a few things checked off.
Take Remember the Milk with you on the go and never lose that reminder scrap piece of paper in the bottom of your purse again.
3.
Gift Plan: $2.99.
Before you balk at spending $2.99 on a gift giving app, think of it more as your personal gift giving assistant. Someone to help you keep track of gift ideas, what the recipient likes and doesn't like, clothing sizes and more - all in one spot.
Beautifully designed for your iPhone, iPad and iPod touch, you'll feel like you're opening a gift every time you use Gift Plan. It's easy to get started with Gift Plan by importing Facebook contacts complete with pictures and birthdays, then add them to the applicable gift giving categories. Give this app a try to simplify gift giving throughout the year.
4.
GrooveBook: free.
Got a picture of Grandma singing karaoke at the family party? Did you catch the look on your son's face when he woke up Christmas morning? Just like you, we have hundreds of pictures on our iPhone and all they do is sit there, with an occasional upload to our computer.
GrooveBook solves the problem of photos forever being on your phone with a free app that turns your memories into a photo book of up to 100 photos. You can even order duplicate books for stocking stuffers and gifts. Use coupon code UTgroove and your first book is totally free. It's the perfect way to truly enjoy the holidays all year long.
After your first book, GrooveBook charges $2.99 for your 100 page photo book. Where else can you get 100 photos for $2.99?
5.
Cookie Doodle: $1.99
When you need to keep those little hands busy while waiting in line at the post office or taking one more trip to Wal-Mart, grab a cookie. No, I'm not talking about the treat you buy at the checkout stand to keep junior from a total melt down. Get more for your money with the kid-friendly holiday baking app, Cookie Doodle.
For $1.99 your kids can bake and decorate holiday inspired cookies without the mess! My kids love picking out dough, shapes, frosting and candy decorations. Eating the cookies is just as fun as you tap the cookie to take a bite, leaving little crumbs behind. My kids even enjoy seeing what type of cookie their siblings could come up with when it wasn't their turn to bake.
I'll confess, I have baked a cookie or two myself when the kids weren't around. The best part is these cookies have absolutely zero calories. Not bad for a couple bucks and a little entertainment on the go.
As Christmas and New Year get closer, don't freak out - just grab one of these 5 apps to make your holidays more memorable and less stressful.
Have you tried one of our favorites or did we leave out one of your go-to holiday apps? Share your tips and favorite picks in the comment section.