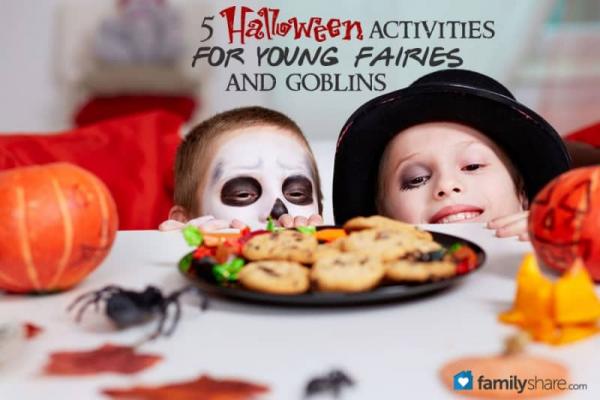 Kids delight in Halloween and the enchanting events surrounding it. Treats, costumes and spooky displays capture young imaginations and build anticipation.
Engage your preschoolers and young kids with Halloween crafts and activities to keep them busy while they count down the days before trick-or-treating.
Make a family Halloween picture book
Gather photographs of each member of your family. Cut out the heads and glue them onto individual sheets of paper. Then have your little one create a costumed body for each family member. Include pictures of pets.
Use pencils, crayons or markers and embellish with fabric, sparkles, feathers or whatever items you have on hand. Encourage your preschooler to be silly and creative (give Dad a fairy princess body, for example).
Bind the pages together with staples or string and construct a cover with your family's name, the year and Halloween illustrations.
Work wicked word games and puzzles
Create an acrostic by writing a word vertically and helping your preschooler come up with a new word or message for each letter. Stick with the Halloween theme by using the word "haunted," for example, and helping your child think of Halloween words that begin with each letter ("hayride" for h, "afraid" for a, and so on).
I love acrostics because they enhance kids' vocabulary as they focus on a theme.
Look for websites with free printable coloring sheets, mazes and word searches, like dltk-holidays.com and crayola.com.
Create ghostly goodies
Halloween is the perfect season for whipping up some fun in the kitchen. Serve soup or stew in a cauldron and call it your witch's brew. Prepare a green Jell-O, aka "slime." Bake rolls or breadsticks in the shapes of long, creepy fingers. Jack-o-lantern pizzas, using toppings for the face, are always a hit, too.
Invite your young ones to decorate pumpkin-shaped sugar cookies or eyeball-shaped Rice Krispy treats. Make spiders with black licorice and Oreos. Decorate caramel apples with candy bar toppings or candy corn. Any of your favorite treats can be adapted to the Halloween theme.
Add Halloween haunts to your home
Help your preschooler color and cut out witches, ghosts, black cats and spiders to decorate windows and doors. Spread fake cobwebs into corners or on the front porch. Carve or decorate pumpkins.
Create a monster by stuffing an old pair of jeans and long-sleeve shirt. Add a Halloween mask for the face and prop your new pal onto a chair to decorate your porch or entrance. Most young children are easily spooked by grotesque masks, so choose something funny or only mildly scary.
Play ghoulish games
Play the mummy game by dividing your family into two teams. Each team uses one roll of toilet paper to wrap their "mummy" from head to foot. The team that runs out of toilet paper first wins.
Find or print two paper or cardboard skeletons. Cut them apart and scatter the bones into two piles. Have each team race to reassemble their skeleton. Or, your preschooler can play solo as he races against the clock.
Help your child color and cut out a twist on pin the tail on the donkey. Play, "Pin the spider on the web," or, "Pin the broom on the witch."
Create a magical season for your little monster or fairy with these easy, enchanting ideas. Happy Halloween!