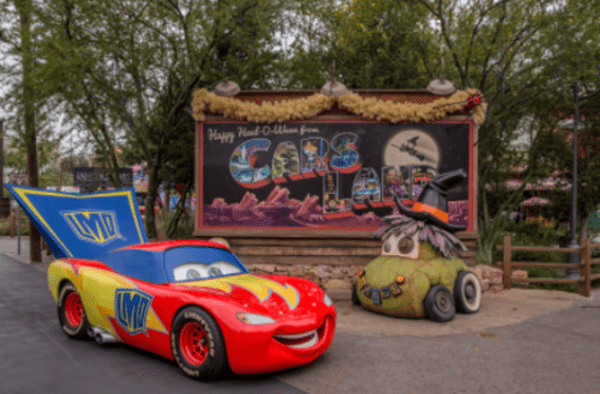 My family and I were so excited we couldn't sleep the night before our trip to Disneyland. We knew that the parks have new attractions. We had a feeling of excitement that grew as we parked our car and headed towards the front entrance. It was the same excitement that I felt as a child when we went to Disneyland. This year we discovered so much has changed for the season - and in true Disney fashion it's visible from the very first magical sight.
Photo courtesy: Disneyland Resort
1. Monsters After Dark take over Guardians of the Galaxy
The Guardians of the Galaxy is always a crowd favorite. Spooked with a Halloween twist, it changes into a whole new experience. has been a favorite attraction all year. The Mission: BREAKOUT! ride takes you on one of six experiences throughout the day and gets even scarier with the the "Monsters After Dark" adventure experience after the sun goes down.
Tip: Be prepared with a FASTPASS and snacks as the line is slightly longer because of it being a more recent addition to the park.
Photo courtesy: Disneyland Resort
Photo courtesy: Disneyland Resort
2. Cars Land Is magically transformed into Haul-O-Ween
The Cars Land sign welcomes you as a guest for Haul-O-Ween.
If you are a Mater or Lightning McQueen fan, Haul-O-Ween in Cars Land is a must stop on your Disneyland adventure this fall. All the characters are appropriately decked out in Halloween (ahem Haul-O-Ween) costumes. Mater's Junkyard Jamboree becomes Mater's Graveyard JamBOOree.
I personally enjoyed Luigi's Rollickin' Roadsters transformation into Luigi's Honkin' Haul-O-Ween. There are two new songs on this ride as well, surely chosen by Luigi and Guido, the songs are called "Terror-antella," and "The Chop Top of Carsoli." This technological marvel will have you putting your hands in the air as each car takes you for a spin.
Each Cars Land resident has decorated their location and is ready to welcome you and your family for a hair-raising fun time.
Photo courtesy: Disneyland Resort
3. New chills at The Haunted Mansion
My favorite holiday habit is the Haunted Mansion in Disneyland Park. This year did not disappoint. The mansion has been taken over in the style of Tim Burton's Nightmare Before Christmas. Headstones and decorations are transformed,spooky animals sing a new song and everything is covered in cobwebs. Even if you've experienced the Haunted Mansion before, this complete makeover will give you a new set of chills up your spine.
Bonus: This Haunted Mansion is up through early 2018.
4. Dia de los Muertos: celebrating the everlasting bonds of family
In celebration of the Thanksgiving release of the latest Disney/Pixar movie, Coco, Disneyland Frontierland pulls out all the stops to celebrate Dia de los Muertos this holiday season.
Taking cues from the new Coco movie theme of celebrating the bonds of family. Your group can head to the new decoration area that displays the Árbol de la Vida (Tree of Life) for a picture with your family and tell a story about a favorite family member. Feel the beat with lots of live entertainment including mariachi bands charming storytellers and folklórico dancers, in their beautiful costumes.
And, oh my, the food was simply amazing. My favorites - and can't miss recommendations - are the pan de muerto, mole verde con pollo, elote and tres leches parfait. The flavors and smells will transport you and your taste buds to the heart of Mexico. Thankfully you can get these delectables throughout Disneyland and Disney California adventure.
Dia de los Muertos will only be on display through November 2, 2017. But some of the celebration will continue at Bugs Land starting on November 5.
Photo courtesy: Disneyland Resort
5. Biggest Mickey Mouse Pumpkin and Lots of Amazing Pinterest Worthy Decor
Disney fans will enjoy Halloween Time more this year because there is holiday magic in both Disneyland and Disney California Adventure. Walk towards the ticketing gates of Disneyland you can start to see the Halloween transformations. There are pumpkins that look like all your favorite Disney character. Including the biggest Mickey Mouse pumpkin I have ever seen.
Tim Burton's The Nightmare Before Christmas has taken over Disney California Adventure. Oogie Boogie, the villainous boogeyman from the movie ominously leers over guests passing through the main entrance, becking you to entering and join in the festivities - if you dare.
The stores just inside the main entrance of Disney California Adventure display amazing Halloween pumpkin clothing and decor. Buena Vista Street, at the front of the park, is the place to be at dusk as the magic happens. The 10-foot tall headless horseman statue comes alive with lights and smoke effects. Everyone in the park stops in the square to await the arrival of the bats which circle 'round Carthay Circle's Bell Tower.
Over at Cars Land the air was thick with the smell of candy corn, popcorn and chocolate. We bought our favorite candy mix popcorn near the candy cone motel and got Halloween decorated mugs to take home with us. As we pushed our toddler in the stroller we stopped to get pictures many characters dressed in a Halloween costume (Mickey Mouse) or as themselves in all their villainous glory (Maleficent, of course).