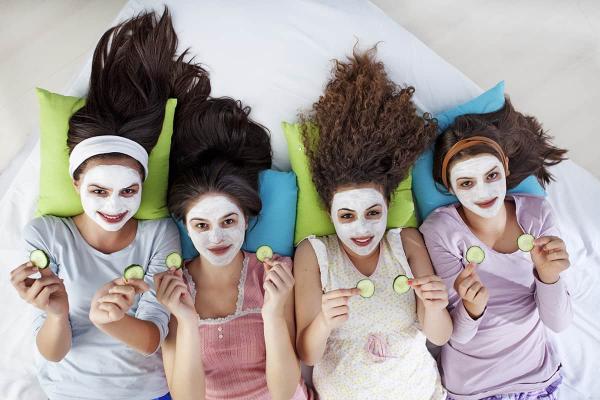 Girls know how to have fun, but sometimes they need a little guidance. If your tween wants to throw a party, either for her birthday or just for fun, make it an event to remember by having a theme and planning ahead. These five sensational party ideas will help her and her friends have an awesome party.
Cooking celebration
Most young girls like to cook and bake. For this party, the kitchen is the place to be. Have girls decorate aprons with fabric markers when they arrive. Then, start cooking. Choose easy dishes like individual pizzas, fruit salad with dip and a fun beverage. Set up stations beforehand and assign two-three girls to each station. When the meal is finished, enjoy it together. Later, have a cupcake or cookie decorating contest, paint wooden spoons or decorate plates, and play a game where girls test their knowledge of spices and herbs. Your happy chefs won't want to leave the kitchen when this party's over.
Get your craft on
A crafting party is perfect for times you can't party outside. Have your pre-teen select a few crafts she'd like to do with her friends. Ideas include making jewelry, constructing headbands (like these suggested on Spoonful.com), painting treasure boxes, playing with clay and basic sewing projects. Gather supplies beforehand and include tools like scissors, glue, paintbrushes and sewing supplies. Have each craft organized and ready to go. Set out separate tables for each craft if you have room. Don't forget to set out snacks and drinks so your crafters can keep their strength up. Have bags on hand for your guests to take their creations home.
Pajama movie night
Movie parties are always popular. Rev up the fun by adding in a pajama theme. Set out comfy blankets and pillows and have guests wear their pajamas. Consider having a pajama fashion show and handing out silly awards. Choose a tween appropriate movie that will be fun for everyone. If you want to serve a meal, try breakfast for dinner. And if guests fall asleep during the movie, they'll be all ready for bed.
Backyard bonanza
Pre-teens might pretend they're too cool for playing games, but get them started and they'll have a great time. Set up yard games like ladder golf, badminton, croquet and bocce ball. If your budget allows, rent a large bounce house or inflatable obstacle course. If it's a hot day, play water balloon volleyball or have a water fight. The girls will still enjoy hula hoops, bubbles and sidewalk chalk, so put those out, too. Serve popsicles and finger foods and lay out blankets for lounging. If you have a fire pit, let the kids make s'mores and celebrate just being kids.
Sensational spa time
Most pre-teen girls are getting more interested in grooming and beauty care. A spa party is a fun way to pamper your guests. Set up stations for facials, manicures, pedicures and massages. Help the girls make their own beauty supplies like sugar scrubs and lip gloss. If you have time, add hair and make-up stations, and then do a photo shoot of your beauties. Serve flavored sparkling waters and fancy appetizers to make the girls feel extra special.
The next time your daughter asks to have some friends over for a party, choose one of these themes and be prepared for very happy guests.