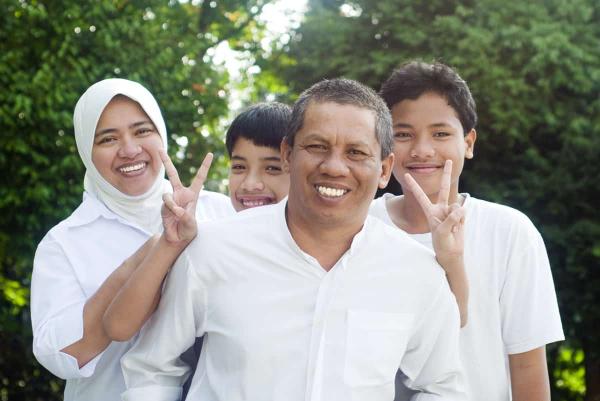 Published in Vida en el Hogar by Andrea Echeverri Gutierrez on November 1, 2013
Translated and adapted by Anders Peterson from the original article "Dar y recibir amor en familia con estos cinco hábitos" by Andrea Echeverri Gutierrez
Family life has its challenges because each member possesses different likes and interests. Nevertheless, each household can develop similar values in order to enjoy unity and harmony within family relationships. In family life, the most important principle is love which implies having a personal encounter with each other, accepting each family member for their strengths and weaknesses and loving them for who they are and not for who we would like them to be.
Moreover, love encompasses having an open mind and sharing opinions without fearing judgment. Just like the family needs to be structured love must also be established. It requires sharing a life together and spending time together by participating in family activities of mutual interest. Therefore, cultivating love is essential to establishing a successful family. In order to make this possible, I would like to share with you five habits that will allow you to share and receive love in a wholesome way.
1. Set aside time to be together.
Personal relationships are strengthened through family reunions. It is good for any family to set aside a daily time, on a weekly or even monthly basis to share time together and participate in recreational activities. In addition, we can share concerns, plans, or any positive thing that happens within the family.
2. Express feelings.
It is always good to share our feelings with individuals close to us. When these feelings are positive, they must be expressed frequently, such as saying "I love you," "I admire you," or "I miss you." On the other hand, if the feelings are negative, you may need to take some time to reflect on them and express them clearly, directly with respect and tenderness.
3. Conduct a self-evaluation.
In many cases, we may think that we are right about having a disagreement with some family members. Nevertheless, leading a loving life requires casting aside the weaknesses we tend to see in other people and focusing on our own mistakes in order to change and become better people. A good idea to put this into practice is conducting a self-evaluation at least once a month in order to improve our attitude.
4. Put ourselves in the other person's place.
Whether the family circumstances are positive or negative, we must always think of the other person and how he or she is feeling in order to comprehend what they are going through and why they are acting in a certain way. Here are some ways to develop closeness in your family.
5. Find the good in everyone.
Developing love for others leads us to find love for ourselves, as well. This is one of the main reasons why we must demonstrate love toward our family members. Regardless the differences that set us apart, we can find the good in our relatives and show them kindness through our actions.
As you try to develop these habits in order to cultivate love in your family, you will see that it is worth it.