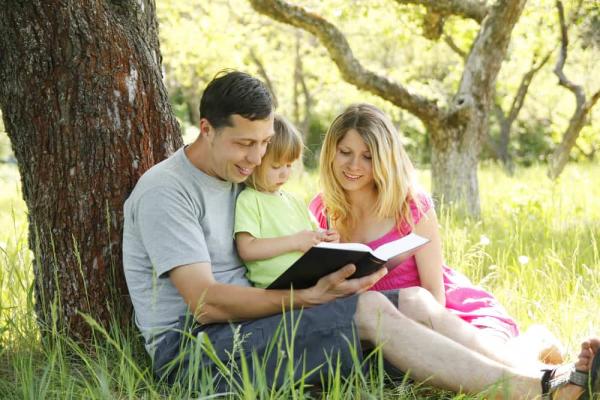 It's becoming increasingly unpopular to demonstrate faith. Only around 20 percent of all Americans attend religious services weekly. With the societal decline of religious participation, why should your family opt-in to regular religious observance? Faith strengthens families, and faith can specifically strengthen your family. Here are five concrete ways that your family can see increased unity through expressing your faith together.
Faith fosters lasting marriages
One of the greatest gifts you can give your children is a strong marriage. Children raised in two-parent households do better in school, engage in less high-risk behavior, are more likely to attend college, are more likely to live above the poverty line and are less likely to have an unplanned pregnancy. Actively participating religious couples are less likely to get divorced than their non-religious peers.
Fostering faith as a couple brings married individuals together in a way that no other secular hobby can. When couples share their faith, they are vulnerable to their partner, a key ingredient to marital intimacy. Couples who also believe they answer to God for their marriage vows are more willing to work through the inevitable challenges of married life, and they are also more likely to have access to counseling, through their church.
Faith gives family a shared heritage
Family rituals are important in giving children a sense of belonging. Religious observance offers children daily traditions to guide their lives, such as family prayer and devotional, as well as weekly attendance at services. Children raised in religious homes also have more meaningful traditions around the holidays, traditions that they are likely to pass on to their own future families.
Faith creates opportunities for togetherness
Daily religious activities, weekly church attendance, and shared holidays, in addition to creating traditions, give families built-in time to spend together. Researchers find that families who share their faith report greater love and affection for each other, possibly because religious rituals are often focused on expressing love toward God. When kids see their parents acting in love and tenderness, they are more likely to feel that same love for their family members.
Faith provides meaning in hard times
All families go through rough patches. Whether it's the death of a loved one, illness or financial hard times, families can either fall apart or come together when faced with a trial. Faith gives meaning to life's obstacles, and families with shared faith more often rely on each other for support. When a family gathers together in prayer, they receive the fortitude necessary to overcome together, an experience that leads to a stronger family in the end.
Faith leads to a shared social network
Religious individuals experience less loneliness and have a stronger social network than non-religious people. Furthermore, parents in a religious home are more likely to know the kids in their children's social networks. This social transparency leads to kids who use less drugs and alcohol, get in less legal trouble, and have lower rates of sexual activity than non-religious teenagers. Sharing family friends with similar values helps families feel like they are a part of a community.
Bring your family together with faith this year. If you're not attending church together, now is a great time to find a congregation that will provide your family with a loving community. If you're already worshipping together, express faith at home with regular family prayers, scripture study and devotionals. Religious observation creates a legacy of faith in your family that will bind you together for generations.