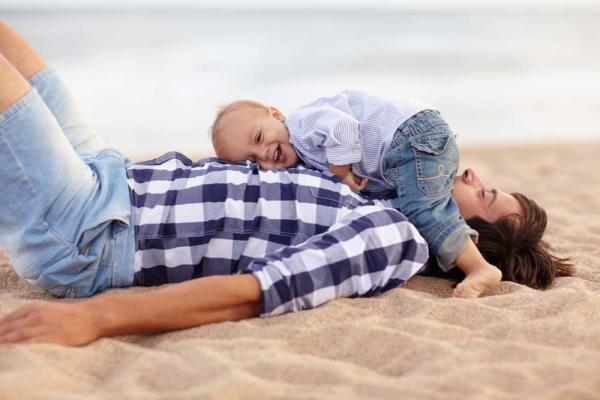 How often do you tell your father or stepfather how much you love and appreciate him? If you don't say it enough, Father's Day is your chance to let Dad know how much he means to you. This is your time to spoil him.
Oftentimes dads are overlooked and not thanked for their hard work. Just as mothers, they too have a tough job to do and deserve recognition.
Sadly, my father and grandfather are no longer with me. As difficult as it has been for me to experience Father's Day for the past 25 years without my dad - and now without my grandfather - I know they are with me in prayers. Nevertheless, I hold on to the wonderful memories shared together. But if I had the opportunity to create new memories with them, I would celebrate by following the five tips below:
1. Watch home videos
Choose a time during the day when you and your mom feel is perfect to sit down with dad and watch the videos. Relive the beautiful memories by talking about what happened during those times. Whether the memories make you cry or laugh, at least the emotions are shared together.
2. Create a personalized letter or a video message
If you decide to do a video message, send it as a text or email while you are not around him. When he clicks on the video, it will surely put a smile on his face. If you choose to go with a personalized letter, leave it next to his morning cup of coffee or newspaper. Whether you choose a letter or a video, be detailed. Thank him for specific things.
3. Make his favorite meal
Send your father on an errand thus allowing you and your mom enough time to cook up his favorite meal. If his favorite meal happens to be a breakfast dish, wake up early and whip up the dish alongside Mom. Let the aroma of a delicious breakfast do the honors of waking him up.
4. Buy him a gift card
When you buy dad a gift card or gift certificate, make sure it is in something he would benefit from - car wash, sporting store or clothing store he frequents.
5. Attend an event or activity together
If your dad's baseball team is playing on or around Father's Day, surprise him with tickets. Also, plan a dinner before or after the game. Perhaps your father prefers fishing or hiking. Don't forget to take plenty pictures.
If your dad has passed, here is an idea to celebrate his memory on this special day:
Prayer
Visit your local church and say a prayer in his honor. Through your God, tell your father how much you miss and love him. If your father has a resting place at a cemetery, bring him flowers or something that he used to love. Again, say a prayer and spend a little time. Also, do not forget to look over pictures and reminisce about the good times alongside your mom.
All fathers - single dads, stepfathers and father figures - deserve a "thank you" for all they do throughout the year. To every dedicated father, thank you and Happy Father's Day.