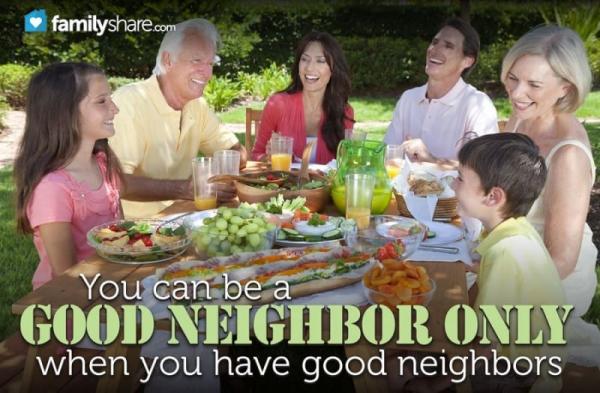 Do you know your neighbors? Do you know their names? Their likes? Their dislikes? May 19 is known as Neighbor Day. This day always falls on the Sunday before Memorial Weekend. It is a day to get to know those who live nearby before the fun activities of summer begin. It is the perfect day to throw a small get-together or meet-and-greet for your neighbors and friends. Below are five suggestions for small parties you can throw to become better acquainted with those who live nearby.
1. Ice Cream Social
The weather is quickly warming up and ice cream is becoming a favorite treat. Plan an ice cream social in your backyard. Have each neighbor bring their favorite type of ice cream or their favorite topping. The children will love the delicious treat and it doesn't require much planning for you.
2. Outside Movie Night
Pop some popcorn, find a good movie and enjoy a night under the stars with your neighbors. You can create an outdoor movie theater by projecting a movie onto the side of your home. Invite your neighbors and mingle. They can watch the movie if they wish or sit and get to know one another better. Ask your neighbors to bring their favorite movie theater snack and everyone can enjoy popcorn, drinks and candy.
3. Game Night
Many families love to play games. Gather your neighbors together and enjoy a variety of activities. If the weather is nice, play outside. Plan fun yard games that both adults and children will love. If the weather isn't cooperating, break up into smaller groups and enjoy some board games. You can learn a lot about another individual throughout the course of a game.
4. Talent Show
Invite your neighbors to participate and show off their skills in a neighborhood talent show. This is an excellent way to meet families, learn names and discover tidbits of information about different individuals. Let both children and adults participate and welcome a variety of talents. This event is sure to bring plenty of laughs that can quickly unite a neighborhood.
5. Potluck
Everyone loves food. If you have plenty of food at an event, the crowds will come. Invite your neighbors to bring their favorite dish or their favorite dessert to the neighborhood potluck. Spend the night eating, mingling and even playing several get-to-know-you games. Take a little time and plan the potluck. Decide whether you want a large meal or simply a salad or dessert potluck. Then, let your neighbors bring their favorite dish that fits the theme. The participation will encourage your neighbors to attend and the variety of dishes can be great conversation starters.
When planning an event for your neighborhood, you don't have to spend much time and money to prepare. Make it simple. Invite others to help and make sure everyone is invited and knows the exact location and time of the event. The more people that attend, the more fun it will be and the more you will get to know one another.