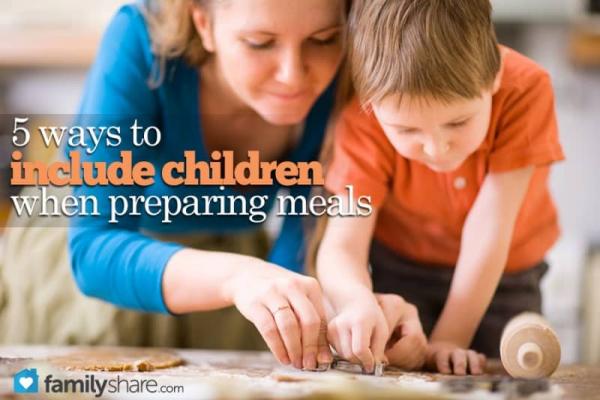 Teaching your children healthy food habits while they are young is an important responsibility for parents. When these habits are established at a young age, children are less likely to become obese, binge on junk food and frequently eat fast food when older.
But, children can be picky eaters and getting children to eat healthy meals can be a challenge. However, by including your kids in the preparation process, they are much more likely to eat and enjoy the food you cook. Here are five ways you can include your children when preparing family dinners.
1. Make their favorite dish
Dedicate one meal a week to each child. Let him choose his favorite meal and ask him to help you prepare it. Also, have some fun with the variety of dishes you prepare. If your child wants pizza, make a pizza every few weeks. The variety and excitement of a favorite dish makes them excited for dinnertime and more willing to work with you in the kitchen.
2. Use special cooking utensils
Get a special set of cooking utensils for your child. This can include anything from his own spatula to his own measuring cups. Having their own set of tools makes your children feel more involved when preparing meals. It also helps teach them valuable kitchen tasks such as measuring ingredients or wiping a bowl clean.
3. Mix up the display
Adding a little variety to your food display is another way you can involve your children and get them excited about meal time. Use different plates or even trays for a few meals each week. Ask your children what type of bowls and plates they want to use, and then ask them to set the table or fill the bowls and plates with items such as lettuce, cheese and tomatoes.
4. Let the kids do the dirty work
One of the drawbacks to preparing meals is the cleanup, but remember - a little mess never hurt anyone. Teach your children how to knead or crack eggs. If your children are old enough, teach them how to chop and slice food. When you let your children get heavily involved in the process, they will be more willing to eat their hard work. And once again, they will learn skills that will help them easily maintain a healthy lifestyle when they are older.
5. Teach children to properly set the table
Not only is preparing the food an important aspect of dinner time, but setting the table is, as well. If you have older children, teach them how to properly set the table. Create helpful reminders such as spoon and knife are five letter words and they go on the right, another five letter word. These hints make it easier to teach your children where items should be placed on the table.
By involving your children in the mealtime preparations, you are teaching them valuable skills and helping them create a habit of healthy eating that will last them a lifetime.