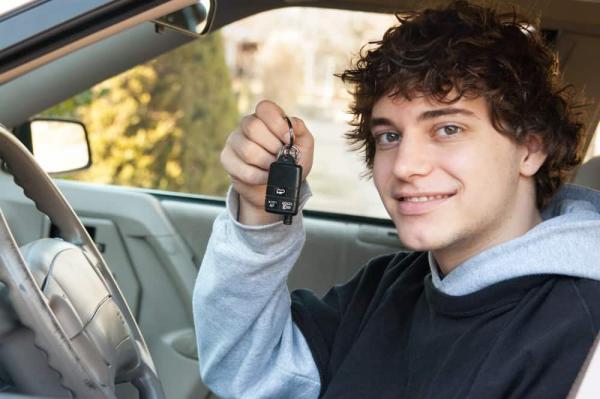 When the time comes for your teen to get behind the wheel, you may think how terrifying but also overwhelming this is. There's the fear of what could happen to them on the open road, and on top of that, comes some major expenses, including: driver's education courses, auto insurance and maybe even a car of their own. It's enough to send even the most prepared mom into a minor panic.
Also, the statistics regarding teen drivers aren't much help either:
50% of all teens get in a car accident before they graduate high school

Teens between 16 and 19-years old have the highest accident rate in the country

Teens 16-19 are three times more likely to be in a fatal crash than those 20 and older
Here are 5 ways to keep it together when your teen starts driving:
1. You are your child's first teacher. Start off on the right foot
Many states now require new drivers to obtain their learner's permit before enrolling in a driver's education class. This means that their first exposure behind the wheel with be with you. Brush up on your technical skills and set a good example when driving with your child in the car. Distracted driving affects parents just as much as teens.
If you find your skills are a bit rusty enlist the help of RoadReady. RoadReady is a tool parents can use while teaching their teens to drive. While you're in the passenger's seat, use the app to enter data about driving conditions, drive time, mileage and how your teen is doing. The app will store this and provide you with helpful tips to pass onto your teen-enhancing the experience and making sure you cover all of the practice scenarios your teen needs to drive safely on the road.
2. Have a discussion on who is going to pay for what costs
All the expenses that come with learning to drive, getting a license and finally sitting behind the wheel can add up quickly. Decide with your teen who will pay for what expenses.
Most insurance companies are well aware of those statistics on teen drivers. However, there are a few ways to keep the budget in check. Several of the more popular insurance companies like Allstate and State Farm have good student discounts as well as special devices that monitor driving and reward safe drivers. You can check all of them out here.
If your insurance company doesn't offer these things, try downloading Drive Alive Lite. When your teen drives without using his or her phone, they will earn points that can add up to cash. This app is a real motivator to ignore your phone while driving in order to make some money. Plus, what they earn can be put toward their car insurance bill.
3. Make a contract between you and your new driver
A contract is the easiest way to keep you and your teen on the same page about what you feel comfortable with when they start to drive. It also encourages discussion on what the consequences might be if the contract is broken.
First, talk about curfews and passengers. Most accidents involving teens occur between the hours of 9:00 p.m. to midnight, so it might be wise to have them hand over the keys after that time. The same goes for other teenage passengers, which can be a huge distraction in the car, especially boys. Research says that drivers take more chances and drive faster when the passenger is a male.
Once curfews and passengers are agreed upon you can also talk about cellphones, food in the car and restricted driving areas. If you need some reassurance your teen is adhering to your contract, the Canary app can monitor your teen's driving. You'll get regular alerts, reports, and can check in to make sure they aren't speeding or driving in restricted areas. Having this watchful eye will remind your teen to drive safely and by your rules at all times.
4. Think about car ownership and choose the safest option
If you decide that buying a car is the best option for your family rather than sharing, safety is going to be your number one priority when shopping. The Insurance Institute for Highway Safety has recently come out with a list of the safest used cars. There are three key takeaway points: high horsepower should be avoided. While this one seems obvious remember that even the recommended models have high powered versions. Secondly, the heavier and bigger the car the safer it will be so think small SUVs and midsize cars. Lastly, is electronic stability control. This is now a mandatory feature in all cars after 2012, but it is in most vehicles after 2006. If you are buying an older, used car remember to look into this.
There are safe cars for every budget ranging for $5,000 up to $20,000. The other option to consider is a short term lease if your teen isn't planning on taking their car to college. Websites like Lease Trader will help you avoid the down payment on a lease and you could end up paying as little as $3,000 by the time your teen driver is ready to leave the house.
5. Remember you are not the only one flooded with emotions
The coming of age when your child steps a little bit closer to adulthood comes with a lot of emotions. They range everywhere from panic and worry to tears of nostalgia for those years past. When teaching your teen to drive, or negotiating the contract, sometimes these emotions can run high. Take a deep breath and remember this is a scary time for your child as well. He or she may be scared to drive or worried about making a mistake behind the wheel. Having a heart to heart with your teen before you set them on their course will make both of you feel better and ease some of those emotions.