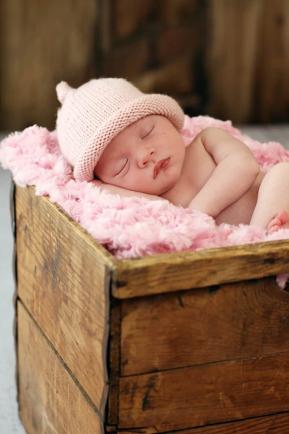 The joy of bringing your precious new arrival home must be accompanied by preparation and wisdom. Conscientious parents will do everything in their power to protect the newest addition to their family. Here are five suggestions to help make sure your baby is safe.
1. Don't sleep with your baby
We know you're not going to be crawling into your baby's crib, but too many parents think it's OK for the baby to sleep with them in their bed. When you wake up in the middle of the night, it's so convenient to just nurse him and let him sleep without even having to get out of bed. This is not about convenience. It's about keeping your baby safe. Though some say there are bonding benefits, the U.S. Consumer Product Safety Commission says that babies sleeping with their parents run the risk of death by strangulation and suffocation. They warn parents and caregivers never to sleep in the same bed with children under the age of two, citing a study showing that, between 1990 and 1997, "515 babies died in accidents linked to sleeping in adult beds."
The country of Finland made an interesting discovery. Their government started a tradition of giving new parents a 28 inch long maternity box for the baby to sleep in. It came with a mattress pad, and a few infant supplies to keep the baby warm and clean. Before this tradition, when many Finnish babies slept in their parents' beds, 65 out of 1,000 babies died each year. You probably don't need a box, but as you can see a padded one is better than sleeping with Mom and Dad. Most parents provide a cradle. Having the cradle next to your bed will give you the peace of mind you need until he's old enough to graduate to a crib.
2. Swaddle your baby
When your new baby is fed and changed, wrap her snugly in a blanket in the swaddling method. Swaddling is comforting to your baby. It feels like being in the womb. Most babies are ready for the swaddling to end when they are around two months old. For a demonstration on how to do this watch this video by Dr. Carl Seashore.
3. Avoid the risk of SIDS
(Sudden Death Syndrome). Since SIDS is the leading cause of death among infants one month to 1 year old, Dr. Laura A. Jana suggests the following:
Make sure your baby sleeps on her back in a crib or other safe sleep space that meets all current safety standards, and on a firm mattress.
Do not put anything soft or fluffy in your baby's safe sleep space (this includes covers, pillows and toys).
To reduce the risk of SIDS, the American Academy of Pediatrics recommends having your baby sleep in the same room but never in your bed.
Keep your baby from overheating. Do not overdress your baby while she sleeps.
Avoid exposing your baby to tobacco smoke and breastfeed whenever possible.
4. Make sure your car seat is properly installed
It's good to actually test the car seat in your car before making the purchase. Not all car seats are created equal. Make sure yours is a good fit for your car. You may find this consumer report on car seats helpful: "10 dangerous mistakes parents make when using car seats."
5. Protect your baby from the flu
Babies under age 6 months are not candidates for the flu shot. So what can you do to protect your baby when the flu is going around? When your baby is new - stay home. No need to expose an infant to the many germs floating around in public places. In addition to getting the flu shot yourself, here are a few ways you can keep your home as flu-free as possible:
Wash your hands often with soap and water or an alcohol-based hand rub.
Avoid touching your eyes, nose or mouth. Germs spread easily this way.
Try to avoid close contact with sick people.
Practice good health habits. Get plenty of sleep and exercise, manage your stress, drink plenty of fluids and eat healthy food.
Cover your nose and mouth with a tissue when you cough or sneeze. Throw the tissue in the trash after you use it.
If you are sick with flu-like illness, stay home for at least 24 hours after your fever is gone without the use of fever-reducing medicine.
And, of course, if you have the flu, common sense suggests you stay away from your baby as much as you can, letting well family members do most of the duties. Wear a mask when you nurse or care for your baby until you know you're well.
Relax and enjoy your baby
Most babies make it just fine. Be diligent, but not fanatical. Let your motherly and fatherly instincts guide you as well as counsel from your pediatrician. Mostly, give your baby love and a healthy dose of calmness.