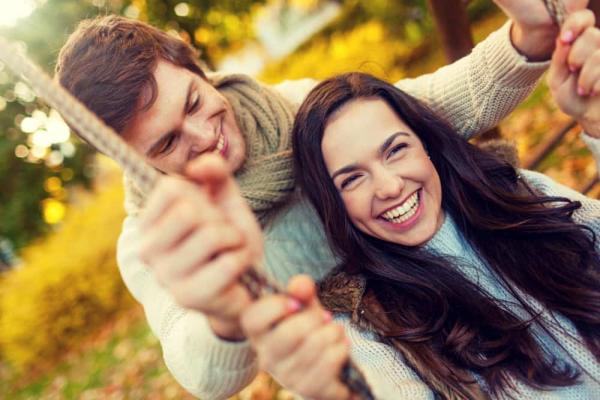 Once you welcome a sweet new baby into your home, naturally your focus immediately shifts to keeping your little person alive. Your thoughts seem to revolve around making sure the baby has enough food, a clean diaper, and a perfect nap schedule. Somehow your marriage slips by the wayside and that new baby takes over as the #1 priority in both of your lives. It doesn't have to be this way, though.
Although having a new baby can consume your life, it is so important to choose to take time to nurture your marriage. We've compiled a list of 52 best dates for new parents - for every season of the year. A lot of these are things you can do at home, or with your new baby in-tow, but some of them need to simply be one-on-one dates while a babysitter watches your new one. The baby will survive, trust us. It doesn't really matter what you do for date night, as long as you are intentional about making it happen.
Spring Date Ideas
Play tennis at the park, followed by a quick trip to get frozen yogurt.

Visit the local farmer's market and eat something you have never tried before.

Walk to the park (with baby in tow) for a picnic and kite flying.
Make homemade milkshakes and write your couple bucket list together.
Visit a local nursery and buy a few flowers to pot or plant.
Build cucumber boats and race them down a stream.
Watch home movies and look through old photo books together. Share your favorite memories.
Go to a local high school baseball game.
Give indoor rock climbing or indoor skydiving a try.
Explore your city and visit a museum you have never been to before.
Explore a new country at home - get food from that country, learn a few phrases in that language, watch a movie based in that country, etc.
Create masterpieces on the street or driveway with sidewalk chalk.
Workout together. Or do couples yoga.
Summer Date Ideas
Stargaze in the backyard.
Get up early and enjoy a sunrise picnic.
Have a Nerf gun or squirt gun fight.
Play mini-golf.
Make homemade popsicles and then run through sprinklers together.
Have an outdoor movie party in the backyard. Fill an empty swimming pool with pillows or blankets, or set up a tent. Cuddle up together and enjoy the great outdoors.
Go swimming.
Enjoy a live music concert in your city.
Go kayaking or paddle-boarding.
Strap your baby to you and go berry picking.
Attend a local food festival and let your taste buds be delighted.
Have a board-game party on the back patio (treats are a must).
Go on a bike ride and buy snow-cones.
Fall Date Ideas
Enjoy the fall colors by taking a drive up to the mountains or enjoying a leisurely hike.
Make homemade s'mores (yes, homemade graham crackers, homemade marshmallows, etc).
Watch YouTube ballroom dance tutorials and practice on the kitchen floor.
Pick out (or make) Halloween costumes together.
Go fishing together.
Attend a local high school football game. Buy hot dogs and nachos.
Make marshmallow guns and have a fight.
Get lost in a corn maze.
Visit a library or bookstore and read to each other.
Rent a canoe and enjoy the beauty of the fall.
Pick pumpkins together and carve them.
Rake leaves and throw them at each other.
Attend a play at the local theater.
Winter Date Ideas
Go sledding. Enjoy hot cocoa afterwards.
Have a snowman-building contest, and a snowball fight.

Make homemade bread and soup together.
Make care packages to give to people in need.
Go ice skating together, and make sure to hold hands.
Build a fort and watch a movie in it.
Plan and make a DIY craft or home improvement project.
Take a local painting or sculpting class. Bring out your inner Picasso.
Make homemade pizzas together.
Go bowling.
Create a home-spa and watch massage videos.
Buy a puzzle or Lego-set and put it together while you listen to your favorite music.
Turn your kitchen into a cozy cafe and make a fondue dinner/dessert.
This article was originally published on Nurturing Marriage. It has been republished here with permission.