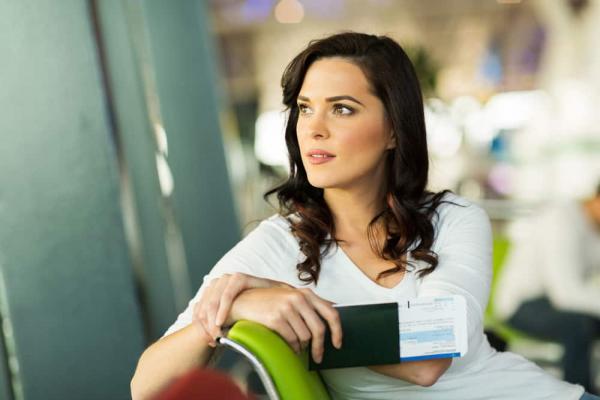 I recently flew across the U.S. from Oregon to Massachusetts via California. Spending several hours traveling allowed me to indulge in one of my favorite pastimes - people watching. And while you might think a cross-country overnight flight would bring out the worst in people, the opposite was true. I observed several moments that proved to me the world is inherently good, and I can be a part of it. Let me tell you about 6 brief experiences that inspired me.
Faithful father
I landed in Boston at 6:30 am, and groggily made my way down to baggage claim. A young man and his toddler son were traveling together. I watched this man tenderly care for his young son, attending his needs and comforting him, keeping him safe and not rushing him at all as they moved through the airport. As the man pushed a full luggage cart with one hand and held his son in the other, I was touched by his example of fatherhood.
It's a small world
During my travel, I heard several different languages, some of which I didn't readily recognize. Still, people communicated well with each other, gesturing for someone to go in front of them in line, apologizing with a nod if they accidentally bumped into someone. Seeing people with different backgrounds interact politely and enjoy being together despite language and cultural backgrounds encouraged me that we can all get along.
Awareness of others
It's easy to feel frustrated and annoyed when you're late for a flight, rushing through the airport dodging slower travelers. I didn't witness any impatient or rude behavior on my journey. As I got off the airplane on my return flight, a disoriented older woman was helped to a wheelchair by several people, airline staff and passengers alike. People politely made room for her up the ramp and then went on their way. I learned a lesson of patience and respect.
Honesty at the baggage claim
As we waited for our bags, my husband commented to me how interesting it is that luggage is not often stolen. Some luggage is probably taken, but I've never heard of anyone who's had their luggage stolen. Lost luggage is a different story, however. Realizing the basic value of honesty is in place at the baggage claim made me have more faith in society.
Patience for parents
I had the luxury of traveling without children on this trip. Other parents had their children with them on our overnight flight. Even when children were fussy and tired, everyone on our flight was courteous and patient. I've been the mom with the baby who won't stop crying, or the toddler who is bored of being in one place. I always try to help parents who are traveling when I'm without my kids, and it was encouraging to see many others do the same.
Aid at the security line
When standing in line for my return flight, again early in the morning, a young man traveling from Asia asked me to review the security line procedures with him. I was grateful for an opportunity to talk to someone and help him know what to do with all his belongings so he could make it through security more easily. An airport is a place where it's easy to ignore everyone around you and keep to yourself. This encounter taught me that reaching out, whether to ask for help or seek it, is a good idea.
Although the red-eye flight left me jet-lagged for a day or two, it also left me with a feeling of hope. There is good in the world. It's up to me and you to see it and perpetuate it.