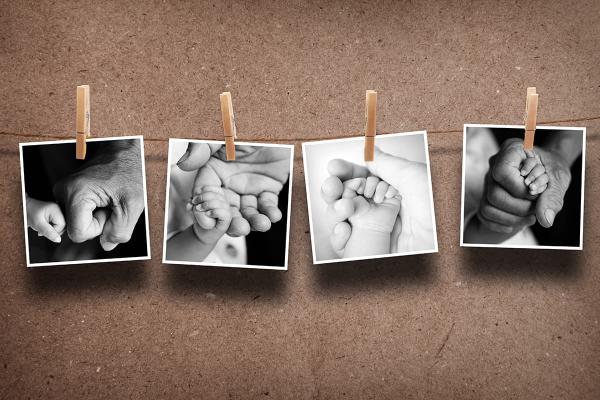 There's nothing like the feeling of holding your baby in your arms for the first time. It's a moment that will be forever etched in your memory. The truth is, however, baby's first year is fleeting. That tiny bundle will turn into a spirited toddler in no time at all. It will be a year full of firsts. Here are some tips for preserving them all.
1. Get baby her own calendar
Buy a wall calendar for baby's room and put it up above the changing table. Attach a pen or keep one close by. Each night, when you get baby ready for bed, jot down anything that happened that day. First laugh, first tooth, first shots, met Grandma for the first time. It will be helpful when you're too tired to write in a journal.
It is a quick way to record all those firsts. It will help later when you're labeling all your pictures. This information can also be useful for your pediatrician. When she's older, your child will enjoy going back to see how old she was when she said her first word or took her first step.
2. Take pictures of everything and everyone
Document not just your baby, but the world around her. Take pictures of the nursery, the hospital she was born in and the doctor who delivered her. Someday she may want to see a picture of the tiny house you lived in when she was born, the park where you took her for a walk or her first playmate.
3. Make lots of photo books
You don't have to wait until the end of baby's first year to make one big scrapbook. It's also fun to make and print smaller photo books along the way. Apps like Chatbooks for iPhone let you upload photos directly from your phone for automatic printing. Take a few pictures everyday, add captions, and Chatbooks will compile them into 60-page photo book volumes that ship to you automatically. You can even send books to the grandparents so they don't miss a moment either. Your first book is free when you download the Chatbooks app and use promo code FSFBF1.
4. Write it down
A well kept journal is always a treasure. If writing in a journal is not your thing, try writing letters to your baby at certain milestones. On the first Christmas leave a letter in your child's stocking with a review of some of the year's events. Write another letter to your child on her first birthday. This is a tradition you can keep going throughout your child's life by writing her letters at important milestones.
5. Get other people's thoughts
Different things about your baby will stand out to grandparents, siblings and favorite uncles. At baby's birth or first birthday, ask them to write down their thoughts and memories about your precious bundle.
6. Video the special moments and the everyday
Of course you want to capture the first crawl or first time at the zoo, but also take time on regular days to take video of everyday stuff. Get video of a feeding, a game of peek-a-boo or what makes baby laugh.
Baby's first year is full of once-in-a-lifetime moments. Make a plan for preserving those memories before they fly away at life's hectic pace.
Download the free Chatbooks iPhone app and get a free photo book with promo code FSFBF1. It's important to preserve the memories of each stage of this new precious life that has come to your family.