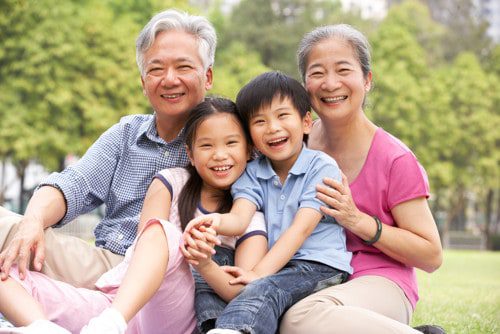 A recent article from the New York Times addresses the "epidemic of loneliness" among the elderly. Their children have all grown up and moved out. Many have lost a spouse and subsequently live alone in their homes. This loneliness leads to depression which is detrimental to their physical and mental health. The problem with this is that the elderly need not be lonely.
The elderly want their children and their grandchildren to visit them. Seeing their family and playing with their grandchildren brings smiles to their faces. They love nothing more than visiting with their children, hearing about their lives, and telling stories together. So why don't we visit them?
If it's been a long time since you've visited your grandparents, here are six things that should motivate you to get in your car and go see them as soon as possible.
1. It will brighten their day and yours
Nothing makes your grandparents happier than when their children and grandchildren come for a (surprise) visit. Grandmas loves to spoil their grandchildren and grandpas love to show their grandchildren where all the fun toys are. The presence of family and children brings light and life into their home and they feel whole again. It dispels the loneliness of their home, if only for a short while, but it's just enough that they know they aren't truly alone.
2. Most of the time they have cookies
Growing up, there wasn't a time when I went to my Grandma's house that there weren't cookies in the cookie jar or Creamies in the freezer. Grandparents almost always have a stash of cookies or candy somewhere to give to their grandchildren when they come to visit (and their children, if they're good enough.) Grandparents love to spoil their grandchildren and keeping a full cookie jar is just an excuse for them to come around more often.
3. You will learn a lot about life
Your grandparents have lived a long life. They've seen and done a lot of things. They know (perhaps more than your parents) exactly what you are going through, despite generational differences. It's easy to think that your grandparents don't know as much as you do, because you are more versed in the language of technology than they are. That simply isn't true. Though technology may not be the easiest for them to learn, they know much more about life's experience than you realize.
From their experiences alone, they will be able to tell you practically all you need to know about life. If you need advice, they will have the best advice to give 100% of the time. They are the wisest humans on the planet. Take advantage of the knowledge they have to give and listen to them and learn.
4. They have lots of stories to tell
Because of their life experiences, your grandparents' have a library full of stories to tell. Most are memories, some faded, others clear as day, but those memories are stories they love to tell. Their children and grandchildren are their favorite audience. Nothing makes them happier than sharing stories from their childhood, adolescence, young adulthood and adulthood. Be it stories of their favorite schoolyard activities, time serving in the war or how they met their spouse, these stories bring them happiness - especially when someone is willing to listen. Even if they're stories you've heard before, memories come and go, so you may be surprised to learn a little something new.
5. Record their stories for future generations
The most important thing we can do to preserve our grandparents' stories is to write them down and record them. Family history and genealogy work is becoming increasingly easier to do thanks to technology. As your grandparents get older, their memory fades faster. Take the time to sit with them and record their stories so they can be preserved forever. When your grandparents have long since passed, these stories will be readily available for their children, grandchildren, great grandchildren, so they can learn about their ancestors. Nothing is more exciting than reading and learning about your grandparents and ancestors and the real life stories and experiences they had when they were living.
6. These are moments you will never replace
Before you know it, your grandparents will be gone. One day I decided to make a spur of the moment weekend trip with my dad to visit my grandma and grandpa, so I could talk with them about their ancestors and do some genealogy work. Little did I know that a month later, my grandma's health would fail and she would subsequently pass away. I cherish those last moments I had to visit with her, because I was able to learn more about her and record some of her family history.
Take advantage of the time you have and visit your grandparents. It will only make their day a little bit brighter and they'll feel a little less lonely. They'll also be able to spoil you and your kids, and who doesn't love a day of being spoiled? Be it a phone call if you live far away, a quick visit or a surprise trip with your whole family, make time to see your grandparents. They need you more than you think.