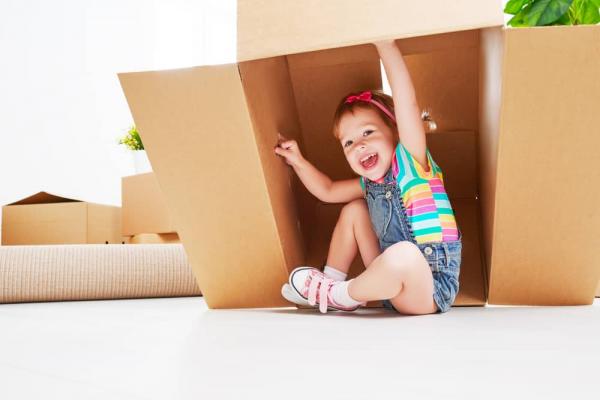 Moving is hard for everyone, but it is especially challenging for families with young children as children rely on stability in their routine for their comfort and well-being.
Often times, working parents leave their spouse at home with the children and also the packing. That can be a logistical conundrum as children panic at the sight of their belongings being thrown into packing boxes.
Here are six strategies to help families with young children during their move:
1. Don't start moving on moving day
Procrastinating moving until the truck pulls up to the driveway is one of the surest ways to make moving a living nightmare. Start moving months and weeks before you actually have to move.
Think of your home in zones, i.e., Zone 1: Kitchen, Zone 2: Family Room, etc. Also, every day, try to fill a garbage can with trash from each zone.
Then, declutter as you go. If you are putting clean dishes in the cupboard and you notice a bunch of old Tupperware you no longer need, by all means get rid of it then and there. Why wait? You'd be amazed at how much work a little extra effort here and there while you are already doing household tasks adds up to.
2. Don't get side tracked with a yard sale
Hold on to anything that could be of use to someone else, but don't bother with the effort of setting up and tearing down a yard sale unless you have a really big ticket item (and usually, those go pretty fast with a quick post on Facebook). Yard sales are so much work and in the end, you might still be stuck with all your junk to move.
Instead, save your valuable time and hassle on moving your stuff and donate your used items to Goodwill. Goodwill.org has posted under "Taxes and Your Donations" a "Valuation Guide for Goodwill Donors." Save your receipt after you donate to Goodwill, and use it as a tax write off (up to $500 annually).
3. Don't use your kitchen the week of your move
For families, the kitchen and the garage are likely going to be the most complicated to pack and move.
Buy some paper goods such as disposable plates, cups and utensils, and consider your kitchen closed the week of your move. You should not be bothered with doing dishes or making complicated meals prior to moving.
Also, this isn't a good time to start a new diet; get a family pack of frozen burritos and call it good.
When possible, tour your new kitchen and make notes of where everything is going to go so you are ready with a plan. Move into your new kitchen first; if your kitchen is moved in and your beds are set up, you're halfway moved.
4. Do arrange child care in advance
It is so much work trying to pack and care for young children at the same time.
Ask for volunteers to have your kids play at their house for a few hours if you have people who are willing. Let family, friends, and neighbors know well in advance the days and times you have set aside for packing for your big move.
A former colleague of mine, Frank Stevens said, "We recently helped some friends move by watching their kids for several hours because any attempt to pack the contents of their four year old's room would have precipitated a nuclear event."
When we moved into our first home, I had four children ages six and under, and it was during the summer. I didn't have a lot of money to spare, so I asked volunteers to help watch my two older kids and when no one was available, I paid a babysitter for a few hours each day for two weeks during my younger twins' naptime.
Just having someone to watch the kids can make an enormous difference while you pack for your move. Plus, hiring a babysitter is a lot cheaper than hiring movers.
5. Do have everything ready when family and/or members of your church group show up to help
It is wonderful that you have people willing to help move your furniture and heavy boxes into the truck! Plan to have everything packed and ready so that when volunteers show up to help, they aren't tripping through all of your stuff to get to the couch.
Boxes should be clearly labeled as to which room, or "zone," they need to be moved. Also be sure to have a clear pathway for movers to move a heavy piece of furniture.
If you have a particularly cumbersome item to move such as a grand piano, you should probably hire professionals for at least that item. Having your neighbors try to move something like that could present a possible injury for them and a liability for you.
And always provide drinks and snacks for those helping. Make it simple: bottled water and donuts. They'll appreciate having clean water to drink and a little thanks goes a long way.
6. It's okay to cry
Young children may feel insecure about moving. It will be even more difficult for them if they aren't allowed to express their feelings. Telling them, "It's okay to cry," and wrapping them up in a big hug will help them feel reassured that even if some things are changing, your love for them remains unchanged.
Same goes for you and your spouse. Moving is exhausting physically and mentally. There's a mixture of excitement for the new home as well as nostalgia for the old one.
During your move, plan to talk a little softer to one another and try to cut everyone just a little more slack. Make an extra effort to thank one another for their hard work and effort in moving. Or, when all else fails, make a pit stop for a Blizzard.