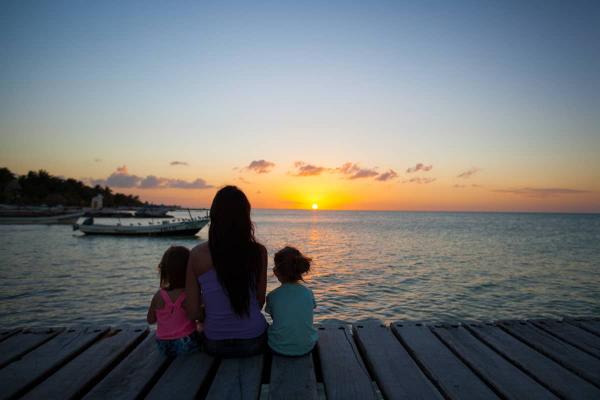 Stress is unhealthy for our bodies and minds. If we do not allow ourselves a moment of rest, we run the risk of getting physically sick, becoming easily overwhelmed and anxious. Since work, school and other mandatory activities consume a lot of energy, we deserve, as a family, to enjoy as much downtime as possible. We should not allow stress to control our lives.
Every chance we had, my mom would take my sister and I out for walks, the movies, and roller skating. We also enjoyed time at home relaxing on the couch watching family shows or catching up on things. Considering she was a single mother working a full-time job, rushing home to help us with homework and maintaining a tidy home, she found the time to take us away from our daily stresses.
When you and your family begin experiencing a high level of stress, embrace the following tips on relieving stress as a family.
Relax
This sounds simple enough. However, we all find it hard to drop everything and relax, especially when there is so much to do in so little time. But, taking a five to 10 minute break will not hurt. After work and school, lay the briefcases and school bags down and sit down in the living room in silence. Close your eyes, take in a deep breath and relax your minds.
Yoga
Invest in a couple of DVDs specializing in family yoga. Find a good time during the weekend to gather as a family and take advantage of the calmness yoga transpires.
Swimming
If you do not have a pool at home, visit your local community's indoor/outdoor pool. Enjoy a few laps together. Turn swimming into a fun competition by offering reasonable prizes such as the winner doesn't have to do the laundry for one week or doesn't have to do the dishes for the next few days.
Walking or Bicycle Riding
Gather the family for a leisure walk or bike ride. According to our family doctor, these activities help reduce blood pressure, manage body weight and improve the overall well-being of the body and mind. Another benefit: these activities bring closeness to the family dynamic.
Movie night
Whether at home or at the theater, take a few hours to watch a family comedy movie. After enduring a stressful week at work and at school, a funny movie will take the stresses away - even if it is for a short period. Don't forget to indulge in some delicious snacks.
Cooking or baking
Ask your children to join you in cooking their favorite meal or baking their favorite dessert. Cooking together as a family opens lines of communication. You learn new things about each other or go down memory lane. Make this time fun.
As chaotic as our days are, we should not overlook the importance of taking a timeout. Our bodies and minds can benefit from a less stressful life.