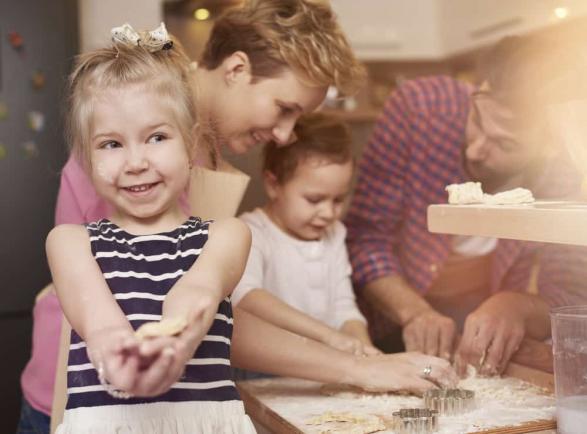 Homemakers often buy into the lie that they don't contribute financially. Sure, your spouse may have a tough job, work long hours, and bring home the bacon, but that doesn't mean he's flying solo when it comes to finances.
If you are a homemaker, you are probably doing more than you realize to help your family's finances already. Be sure to give yourself credit for that!
But maybe you want to do more. Perhaps you're going through a rough patch financially right now and you want to be able to contribute more. Or maybe you have a big financial goal you're working toward.
There are lots of ways you can make a difference financially as a homemaker and stay-at-home mom.
Here are 6 ways that you can make a big impact on your family's finances and some resources to help you do it!
1. Fix frugal food
If you've discussed food budgets to any extent, I'm sure you've found what I have: the range is enormous! There are families of six who spend less than $300 and there are newlyweds who spend over $1,000.
Homemakers have a huge opportunity to make a difference financially by making meals at home. Eating at home will definitely save you money over ordering out. You can take eating at home a step further by learning to cook from scratch. Homemade meals not only taste better and are better for you, but they are also much cheaper than pre-made food.
2. A dose of DIY
Not every homemaker is a DIY diva, but being willing and able to do some projects yourself will save you money. A little creativity does go a long way. You can make things from scratch or repurpose old items into something new.
Whether it's beautifying your space, making homemade cleaning and personal care products, or creating handmade gifts from the heart, DIY-ing can definitely lower your expenses. Don't expect that every DIY project is a money-saver though.
3. Rock the grocery budget
In addition to fixing frugal meals, homemakers can be smart shoppers, especially when it comes to groceries. Buying groceries in and of itself is a great way to be frugal. Establish target prices, learn sale cycles, start paying attention to weekly ads, and discover the benefits of buying in bulk.
Unless you live on a self-sufficient homestead, food is something you're always going to need to buy. Learning how to rock the grocery budget will not only pay off now, but will continue to pay off month after month, year after year. You can even come up with fun ways to lower your grocery budget and reduce your spending without using coupons!
4. Be Organized
Disorganization can be expensive! And clutter can cost you more than you realize. Between replacing those lost library books, paying the late fees on the bills you misplaced, and buying another [you name it] because you can't find yours and you need it now, there are lots of ways that being organized will save your family money.
Don't underestimate the power of organization on the family's finances. If you don't already have a planner or system for effectively calendaring, then now is a great time to start. Keep track of bill due dates, appointments, warranties, car maintenance, and more.
5. Keep Expenses down
While your spouse may be the one to earn the money, you can be the one to make sure that you keep the money. Without a partner who is keeping expenses down and actively involved in the workings of the family finances, it's very easy to go through that earned money like water.
You can take charge of tracking the family expenses, sticking to a budget, and paying off debt. You can shop smart and stretch your dollars as far as they'll go. You can be creative with your resources to save money, too.
6. Work at home
I know that "Working at Home" is pretty much the definition of being a mom or homemaker, but in this case I'm talking about doing something to earn income from home. There are many opportunities for stay-at-home parents to earn a side income (or even a full-time income) without leaving the home. In many cases it's a chance to create your own job - be an entrepreneur!
Not everyone wants to earn an income from home, but if you do, the opportunities are ever-increasing. One of the reasons I started blogging was the hope that I would be able to eventually earn an income from it. While it's not the only way to make a financial contribution as a homemaker, I can't deny that the extra income is a real contribution to reaching our family's financial goals. Plus, it's a creative outlet that's good for my brain.
What you do matters!
Whether you earn an income or not, you can lead the family finances to being debt-free. In many relationships, both parties know that their finances are in trouble, but neither of them has the courage to do anything about it.
Homemakers can take the bull by the horns when it comes to debt. Get your spouse on board with your plan to get out of debt. You can help keep the family motivated and excited about your goal.
You wear so many different hats as a homemaker, but because of all of your different roles, there are so many areas where you can be awesome! I hope you can see that there are lots of ways that you can help with your family's finances as a stay-at-home mom, homemaker, domestic engineer or whatever title you prefer.
There's no doubt that homemaking is a lot of work. We joke about bubble baths and bon-bons, but in all seriousness, running a home and a family is an incredible amount of work. But it's work that really matters.
It's OK if you aren't an expert
Your kids might think you know everything (well, at least until they become teenagers), but the truth is we aren't experts at everything. At least I'm not.
To make an impact financially, you don't have to excel at everything I listed above. Choose something you'd like to improve on and commit to do your best.
Editor's note: This article was originally published on Six Figures Under. It has been republished here with permission.