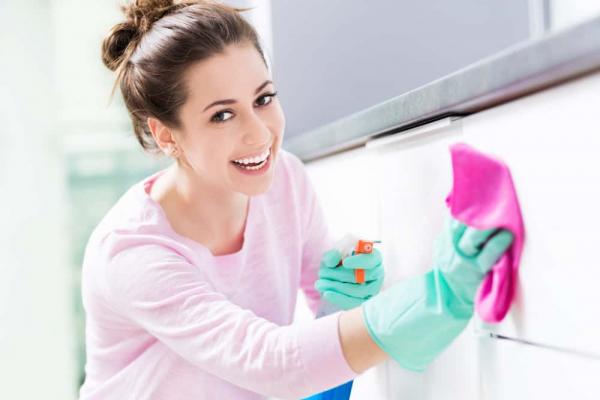 There is nothing like having a clean house. It can make the difference between a stressful home or a peaceful one. Here are seven miraculous cleaning products that will change your life and make your home and family life that much better.
1. A good vacuum
I hated my carpet. We had only lived in our home three years and we already needed to replace the carpets. They were dingy, flat and definitely not something you wanted your kids playing on. Then, something came into my life that was a complete game changer. I got a new vacuum. I had a nice vacuum before; it's a vacuum, and all it needs to do is suck up the gunk on the floor, right? WRONG. I discovered the powers of a Dyson Vacuum. This vacuum worked wonders on my carpets. They look brand new again. I vacuumed the day before with my old vacuum and it was shocking to hear and see just how much my Dyson picked up off the floor just a day later. My carpet is soft, clean and inviting now. Trust me, it is well worth the money spent. I spent more buying vacuum after vacuum before. Having a good vacuum changes everything.
You can find Dyson products at any big retail store that sellss vacuums as well as by visiting www.dyson.com. You may also consider another great vacuum found at www.sharkclean.com.
2. Bar Keepers Friend
This should really be named Bar Keepers BEST Friend. Seriously, this stuff is fantastic! I can't think of an area of my home I haven't used it on. You can use it anywhere, from outdoors right into your kitchen. I fell in love with this product when I was struggling with hard water stains on my glass shower. A friend recommended it to me, and as a last resort I gave it a shot. I was immediately hooked. After using it, you couldn't even tell there was glass there. It was perfect! It works great in the kitchen to shine up stainless steel sinks and even cookware.
Bar Keepers Friend can be found at all retail stores. Visit www.barkeepersfriend.com for more information.
3. Mr. Clean Magic Eraser
I bet I am not the only parent out there that has walked into a room to discover it newly redecorated with toddler artwork all over the walls. I don't panic anymore. I know that the Magic Eraser will get it off. I use this product on my walls way more than I should admit. It is also great for getting scuff marks off baseboards and for cleaning up dingy blinds. I have even used it to spruce up tennis shoes before handing them down to my next son. I always make sure to have one on hand. You never know when you will need it.
Mr. Clean Magic Erasers can be found where cleaning supplies are found. Visit www.mrclean.com for more information.
4. Shark Original Steam Mop
I hate mopping. I am the queen of spot mopping. Who wants to take the time to clean an entire floor when two seconds after you finish your sweet 2-year-old dumps an entire sippy cup of milk on it? Well, that was until I discovered the powers of having a good mop. The Shark Steam Mop will change the way you look at mopping. Unlike regular mops, this mop doesn't just push around dirt and liquid. You can actually use the steam mop on wet spills, sticky residue and to shine. It cleans and sanitizes at the same time. It is lightweight and easy to use. Your floors are left truly clean, shiny and smelling good.
Visit www.sharkclean.com for more information.
5. Norwex EnviroCloth®
There really isn't anything you can't clean with the Norwex EnviroCloth®. It is versatile and easy to clean and store. Best of all, there are no chemicals involved! You get a clean, sanitized surface with just one cloth. You can use it wet to get up stubborn dirt or any sort of debris. It can be used dry to gather and lock in dirt and dust. It is perfect for those quick clean-ups that come up suddenly. Just rinse it out and dry it between uses. It can be laundered as well. Stop using disposable paper towels - this cloth is reusable. It's a great addition to your cleaning supplies.
Norwex® is sold through independent consultants. Visit www.norwex.com to find one near you.
6. Tech Stain Remover
It never fails - I don't think I have made it through an entire meal and without spilling on myself. That is why a good stain remover is a must for me. I use it with almost every load of laundry. Tech Stain Remover is by far the best I have found. It is great with those tough, set-in stains. I have even put an article of clothing through the dryer before I realized it was stained, and Tech Stain Remover still got it out afterward. Tech also makes products good for carpets, tile, grout and even odor neutralizers. I've heard even a skunk's spray is no match for its power. I'm glad I haven't had to put that to the test, but it's good to know should it ever happen!
Visit www.techstainremover.com for a full list of products and uses.
7. Glade Carpet and Room Refresher
This one really isn't that innovative or magical, it's just really nice. I love sprinkling it on my carpets before I vacuum. It really makes the entire room smell fresh and clean. It's the product you never knew you needed. Get it. Your nose will thank you.
Visit www.glade.com for more information.
There you have it - seven of the best cleaning products around. Happy Cleaning!