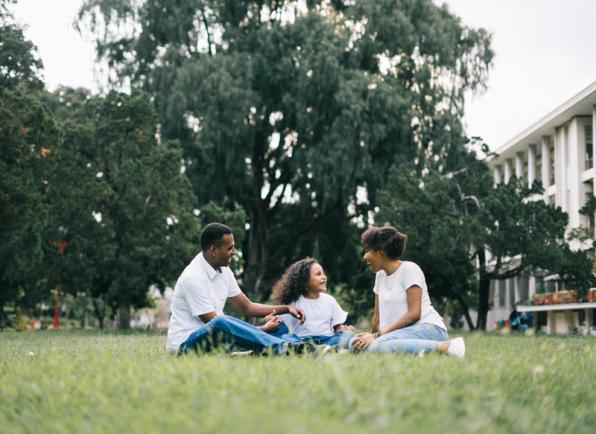 Who doesn't love a good family tradition? Not only does tradition contribute to a sense of comfort and belonging, but it also brings the family together and connects you. It reinforces crucial values like freedom, faith, integrity, and personal responsibility. Another wonderful thing about traditions is that they represent a critical piece of our culture. They help form the necessary foundation and structure for our families and society. While you may already have established traditions with your family, the New Year is a great time to start new traditions with the people you love the most. Here are seven New Year traditions to start with your family this year.
Create a Family Gratitude Journal
During the New Year, many people want to get their mind and spirit right. We also want to reflect on what really matters to us the most. What better way to do this than to begin a family gratitude journal? Each week, set aside time to log in one thing that you're thankful for. At the end of each week or month, each family member can sit together and reflect on the things each person said they were thankful for. This is a great way to remind yourself of the importance of being thankful while also acknowledging what you value the most.
Eating Together at Dinner Time
Eating together, especially at dinner time, is a dying family tradition. One way to keep it alive is by making it an important time for your family. Some of the closest families value the time that they eat together. It is a time to reflect on the day, share funny stories, life concerns, or mindless things. It may also be the only time that your family actually gathers in one place. We live in such a busy, fast-paced, schedule-driven society. It's nice to think about being intentional with our time with family. We often drown our time in streaming, games, social media, and technology. We don't take the time to pay attention to the people that really matter. If dinner is not a good time for everyone to gather, consider making breakfast the meal that you eat together. If family members work during dinner hours, consider setting aside the time to do this when that family member is free. It will be really nice to pause and catch up with loved ones.
Volunteer With an Organization
Is there a cause or an organization that matters a great deal to your family? Consider volunteering with that organization that means something to you. Volunteering simply means that you are giving your time and abilities to help others without being financially compensated. Just because there is no money made from volunteering doesn't mean that there isn't a lot that you can gain from it. Many nonprofit organizations rely on volunteers to accomplish daily tasks and reach necessary goals. Remember, there isn't one thing we can accomplish in this world alone. Consider banding together with your family in the New Year to make the changes you want to see in the world.
Go on a Weekly Family Walk or Hike
Being active is super important. It may even be one of your New Year resolutions. What better way to be active than to do it with people you love who will also be encouraged by it? Consider going on a weekly family walk or hike, depending on the area that you live in. This is a great time to bond while also holding each other accountable to goals they wanted to reach in the New Year. There are so many places that you can go to get this goal accomplished. Find a neighborhood, city, or national park to go walking or hiking. You can also keep things simple and just take a walk around the block. Sometimes, the easiest places or the ones that are most convenient for everyone. The important thing is that you're staying active while also connecting with the people that you love.
Organize a Neighborhood Drive
Organizing a drive brings people together for a good cause. In the New Year, consider organizing an annual neighborhood drive. People tend to gravitate to food drives because they are easy to get others to participate in. A successful drive takes a lot of planning. Some of the large-scale drives begin with planning and organizing months ahead of time to make sure the logistics are right. Don't let that discourage you. If you have an idea for organizing a drive in just a few weeks, don't be afraid to go for it. The best place to start is by contacting the organization you want to help. They will be able to point you in the right direction of everything that's needed to get the drive off the ground.
Start a Birthday Dinner Tradition
This year, consider beginning a birthday dinner tradition if you haven't already started one. Allow members of the family to select a place they love to eat or would love to try. When their birthday comes up, the family will all gather at this place for dinner and dessert. If there isn't a restaurant someone is keen on, consider making their favorite home-cooked meal. This is something that will make everyone in the family feel incredibly special.
Make Surprise Notes For Loved Ones
Reading an encouraging note feels good, especially when it's coming from loved ones. It's even better when you don't see it coming. This year, consider making surprise notes for loved ones and occasionally leaving them around the house. If you guys are a digital family, consider leaving a sweet text message. These reminders are precious and will let the people in your family know how much they are valued, loved, and appreciated.
The New Year is a great time to begin new traditions. We may not be able to let go of all the things that came with the previous year, but we can wipe a lot of the slate clean. There is so much to look forward to, especially when we're intentional about them.