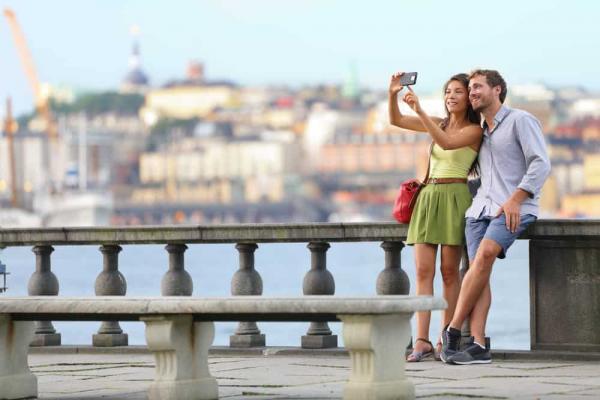 Europe! Admit it: It's been on your bucket list for as long as you can remember. But if you've ever actually sat down and cranked out the numbers, you know paradise comes with a LARGE price tag. Reality bites.
Let me tell you a little secret, though: That ominous price tag can be cut down significantly.
A year ago, my husband and I - young, newly married and practically penniless — were still able to afford the grandeur of Europe for three months because we followed these seven tips we learned from our own experiences:
1. Use cheaper airlines
Transportation will eat up most of your budget. Ryanair, easyJet and a few other airlines offer cheaper plane tickets at the expense of stricter luggage requirements and less comfort; but in Europe you rarely spend longer than a few hours going from one city to another. A tad bit of discomfort and fewer pairs of shoes are worth the hundreds you save.
An easy way to find the cheapest flights available is to use Skyscanner, the Expedia of Europe (and elsewhere). Another tool that pulls from multiple flight searches is Google Flights. Both of these are great for finding international flights with no added transaction fees.
2. Avoid hotels
Believe me, you do not need to stay in a hotel! You're looking for ways to cut costs. Here is one of the easiest ways.
Hotels are expensive. They're also a cop-out to a true European adventure. While luxury is nice, you can get that at home. What you can't get at home is European culture. Alternatives to hotels give you a chance to live the culture around you. Some alternatives include bed and breakfasts, hostels, AirBnb, Couchsurfing, and Home Exchange.
AirBnb is my go-to choice. With it, you have the option of renting an entire home, a private room or a shared room from locals around the world. Obviously your choice affects the price. What's nice about AirBnb is that you always have a friend, your host, to turn to for help or advice. For example, while staying in a private room in a flat overlooking the Gothic Quarter in Barcelona, my husband was able to brush up on his Spanish with our hosts while I dined on a homemade Spanish cheese tart.
Couchsurfing and Home Exchange are, in my opinion, the more risky options, but they come with the best price tag: Free. Couchsurfing is exactly what you think it is; staying on a local's couch. Of all the alternatives to a hotel, this is the most daring, but it is free. Home Exchange provides a neat system where hosts swap homes while on vacation. This, however, binds you to a specific place. But again, free.
3. Turn off your data
Using your phone abroad can rack up some major bills. Most phone companies offer plans that allow for international minutes or texts for an additional monthly fee, but with the way technology is now, you can easily survive without. So many restaurants, coffee shops and popular tourism sites offer free WiFi. Send a message using the internet rather than text, and use that extra money to buy that bobble head of Queen Elizabeth you saw near Big Ben.
Fun fact: you can use your Google Maps app without data or WiFi. If you need to find your way between A and B but can't speak the local language, this is a life-saver. Follow this tutorial from Know Your Mobile to learn how to save maps to your phone and see where you are using free GPS.
4. Find free tours
Some attractions, once you pay admission, offer free tours. But for those that only offer tours for an additional fee - or don't offer tours at all - check out Rick Steves' FREE Audio Europe Travel App. Renowned travel host Rick Steves leads you through the Vatican, the British Museum and other popular sites with audio tours that allow you to go at your own pace.
You can also go on free walking tours with companies such as Sandemans New Europe. They have an interesting business model. The tour is free, but you tip the guide depending on how well you think he or she performed. They offer walking tours in 15 European cities, from Lisbon to Prague to Brussels. Other local tour companies working in specific cities or areas offer similar deals.
5. Take advantage of free and reduced admissions
Here's a lesser-known tidbit: Some museums and sites are free on certain days. For example, in Paris, many major museums - the Louvre, Orsay, and l'Orangerie to name a few - are free every first Sunday. Check your destination's visitor bureau pages for more information on free entry days.
Many popular sites offer discounts to children, students, young adults (typically under 25 years old) and seniors. If you or anyone in your party falls under one of these categories, your entry may be reduced by as much as half the admission price.
Major European cities - such as Paris and Rome - offer city passes through their visitor bureaus. You pay one fee for a pass that allows you to enter popular sites for free or a reduced price, often skipping long lines through special entries.
6. Be smart with pickpockets
It's a sad fact, but they're out there. According to TripAdvisor, eight of the top 10 places for pickpockets are European cities. You can look up the different tactics they use - fake bird poop, fake babies, distracting street performances. It helps to read up on these tricks so you know what to watch for.
Some sub-tips for this: Don't flash money. Wear cheap jewelry. Use bags you can keep close to and in front of you, like a shoulder bag. Hold money, credit cards, and important documents in hidden or harder-to-get-to pockets. A whole slew of products are available specifically for pickpocketing, like money belts and scarves with concealed compartments.
7. Prepare, plan and pack
Prepare by planning jam-packed days. Get in as many sites and activities as you can each day. If you can reduce your trip by a day or two, you'll lower the cost by hundreds of dollars. Time is your most precious commodity. Prepare, plan, pack, and then enjoy your European adventure.