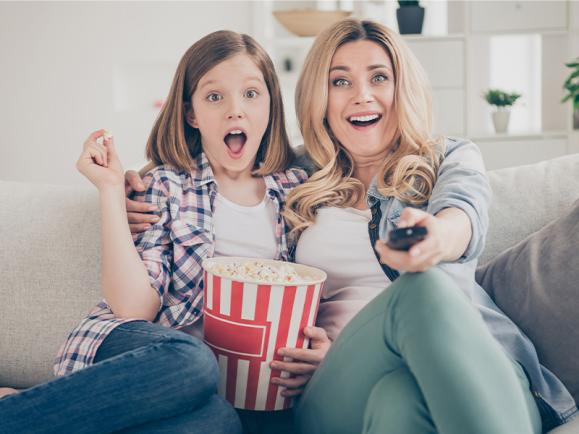 Teenage years are the best time for parents to teach their growing kids some life lessons that they will bring towards their adult years. What better way to let them know what being an adult is like than by bonding with them, sharing them your own stories and experiences which helped you become the adult that you are now, or better yet, to make it more exciting, show them these lessons by way of watching movies.
So, here is a list of life-changing films that you can watch with your teenager, which will not leave them red-faced discussing things with you that concern them because these movies are so relatable and fun. Admit it, you had fun watching these before, right? or even until now. Parents, we highly recommend watching these movies with your teen children. Aside from being an activity where you can bond, you can also be sure that what they are watching is appropriate for their age.
"Mean Girls" (2012).
Stars:  Lindsay Lohan, Jonathan Bennett, Rachel McAdams.
Cady Heron is starting a new life out of the jungle in Africa, where she has lived with her parents for 15 years. Now, as she goes to high school, Cady learns about the high school jungle. She meets her friends and discovers the beautiful popular girls called the Plastics led by Regina George. Wanting to discover their secrets and laugh at them, Cady and her friends began a mission to make Cady become a Plastic. She quickly became a part of the group, but Cady fell in love with Regina's boyfriend, Aaron. As Cady and her friends try to bring Regina down, Cady soon finds herself becoming a "real" Plastic. The biggest lesson that your teen can learn from "Mean Girls" is being popular isn't what it seems.
"10 Things I Hate About You" (2002).
Stars: Heath Ledger, Julia Stiles, Joseph Gordon-Levitt, Larisa Oleynik.
Beautiful and popular Bianca Stratford has a dilemma: she can't go on a date until her older sister, Katarina, played by Julia Stiles, an indie rock gal with feminist prose and largely unpopular, does have a date. The search began until mysterious Patrick Verona, played by Heath Ledger, was paid to date Kat. Will he win Kat's heart? Or will things go south when Kat finds out? The movie details Kat and Patrick's roller-coaster relationship, along with the typical high school struggles. The number one lesson from this film? Hate is a strong word.
"Easy A" (2011).
Stars:  Emma Stone, Amanda Bynes, Penn Badgley.
High school student Olive Penderghast becomes the subject of the school's rumor mill when she lies about an affair with a non-existent college freshman. Soon, this rumor spread across the school, and she found a way to become popular. She then built lies upon lies of sleeping with a bullied friend and more, but soon enough, students branded her as a jezebel, and she must find a way to save face before she gets expelled. This film could be a significant learning experience for your teen because it shows there are two sides to every story, but the truth will always come out.
"The Hunger Games Series" (2013, 2014, 2015, 2016).
Stars: Jennifer Lawrence, Josh Hutcherson, Liam Hemsworth.
The series began when Katniss Everdeen volunteers to take her younger sister's place when she was chosen to play in the Hunger Games. In this competition, two representatives from each of the 12 districts of Panem are chosen by lottery to fight to the death. She and another representative, Peeta Mellark, join other participants as they battle to survive the Hunger Games. The series shows Katniss's struggles after the games and the turmoil she endures trying to do the right thing. "The Hunger Games" can teach your teen that you should always try to do the right thing, no matter the consequences.
"The Fault in Our Stars" (2014).
Stars: Shailene Woodley, Ansel Elgort, Nat Wolff.
When 17-year-old Hazel Grace, who has lung cancer, joins a support group, she meets 18-year-old Gus, who lost part of his leg to cancer but was cured. They fall in love, and Hazel tells Gus about her favorite novel and her dreams of meeting its author, Van Houten, in Amsterdam. Gus contacted Van Houten, who invited them to visit him. However, when they arrive there, things are not what they seem to be. This heart-wrenching tale can teach your teen that life is short, and we should appreciate everyone in our lives while they're here.
"Holes" (2003).
Stars: Shia LaBeouf, Sigourney Weaver, Jon Voight.
Young boy Stanley Yelnats IV was wrongfully convicted of stealing and was sent to 'Camp Green Lake,' a desert detention camp where he and all others were tasked to dig holes for a mysterious reason. Stanley decides to find out why. Stanley and his friend Zero go on an adventure of epic proportions.
"The Theory of Everything" (2015).
Stars: Eddie Redmayne, Felicity Jones, Tom Prior.
This film tells the love story of the most brilliant physicist of our time, Stephen Hawking and Jane Wilde, the art student Stephen met and fell in love with when studying at Cambridge in the 1960s as a cosmology student. At 21 years old, Stephen was diagnosed with a fatal illness, and doctors gave him just two years to live. However, his will and determination were solid, and with Jane's love for him, he soon became one of today's brilliant minds while being a husband and a father of three. However, Stephen's body started to deteriorate. But despite this, his mind is in great shape than ever, making him known as Einstein's successor.
"Superbad" (2008).
Stars: Michael Cera, Jonah Hill, Christopher Mintz-Plasse.
Two high school best friends are on their last weeks of high school and want to have a memorable summer before they go off to college, but when their plans to go to an alcohol-filled party go wrong, what will happen? Sure, this film has some cringe-filled moments for parents, but your tween boys will love it. Seth Rogan wrote this story about his own experiences being at high school.
These films, ranging from romantic comedies to cult classics, will allow you to bond with your teen while opening the floor for discussion. These movies can also bring back memories for you and help you relate to your teen more profoundly. Take a weekend, pop some popcorn, and have a movie marathon with your teen. It'll be the best weekend you've had in a long time, and it'll be the best bonding experience.