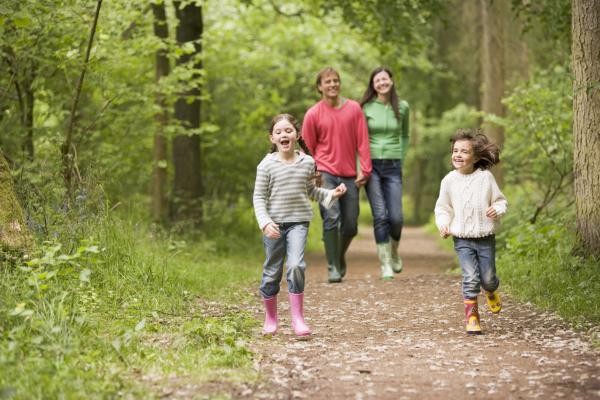 Spring is finally here. The sun is shining, the birds are chirping, and the wind is calling you to come outside and enjoy the nice weather. Instead of just sending your kids out to run around in the backyard, give them some structure with these following activities. They are inexpensive, educational, and are structured to create a greater bond between you and your child. Do you want to get outside and enjoy the spring weather with the family, but do not know where to start? Here is a list of some of the most fun seasonal activities your family can enjoy together.
Read outside.
Not all books have to be saved for bedtime. Have your kids pick out a few of their favorite classics and grab a large picnic blanket. Go to your local park or even hang out in your own backyard. Enjoy the sunshine while you immerse yourselves in storytime.
Go camping or hiking.
Have you ever heard the quote from John Muir that says, "Of all the paths you take in life, makes sure a few of them are dirt"? Taking your children outside to hike or camp is a great way to explore nature and enjoy the spring weather. Look to see if there are any campgrounds within driving distance, but if not you can always pitch a tent in your own backyard. You can roast marshmallows and tell scary stories by the fire. If a night outside is too much for your family, a hike can be just as exciting. There are many hiking trails that are easy for younger children.
Visit a farmer's market.
Spend a weekend morning at your favorite farmer's market now that they are back open. Have your kids pick out some fresh fruits and veggies as a snack for later. This helps teach them the importance of healthy foods and also gives them a chance to be engaged in the cooking process. Farmer's markets provide great opportunities for children to be educated on where food comes from and working in your local community.
Plant flowers.
Gardening can be a fun activity for the entire family. Have your children participate not only in the panting process but selecting out plants as well. They will love being able to go to a greenhouse and learn about all the different types of flowers, shrubs, trees, and the like. Then, have them help you get a little dirty by getting the plants in your yard. Over the spring months, you can look at them together to see how they grow.
Paint rocks.
There is a new trend going around where people are painting rocks. Go to the store and buy craft rocks, or have your children look for some outside, and paint then with your favorite colors and designs. Have your children leave them in cool places, like their schoolyard, so others can take them and appreciate them. This is also a great activity to do outside with a group of children if you are having a playdate.
Make a bird feeder.
Springtime means the return of birds, and how cool would it be for your child to learn about these creatures in their own yard? There are many different ways you can make a bird feeder, including creating one out of a milk jug. You can go more in-depth and also build one out of wood with your older teenagers, and have them paint it with a special design. Birdhouses are easy to make and you can grab food at local pet stores.
Feed the ducks.
If you don't want to have a bird feeder at home, you can still have your children learn about wildlife by taking them to your local park's pond. There, they can see the ducks that have migrated back home and feed them. Make sure to stay safe and avoid geese or other birds that might be more aggressive.
Make and blow bubbles.
Bubbles are so much fun to play with and are so simple to make. Blending together water and dish soap is all you really will need. Of course, if you just don't want to mess with making your own, the premade bubble solution is pretty inexpensive. You can get large wands that make huge bubbles the size of your kid. They will have so much fun and it's relatively little work to put together.
Springtime activities are some of the most fun because you get to enjoy nature blossoming back to life. The warm air and shining sun are all your children will need to have a great day outside. It's also the perfect time to educate your child on wildlife, plants, and the like. So get outside and enjoy the bright day.