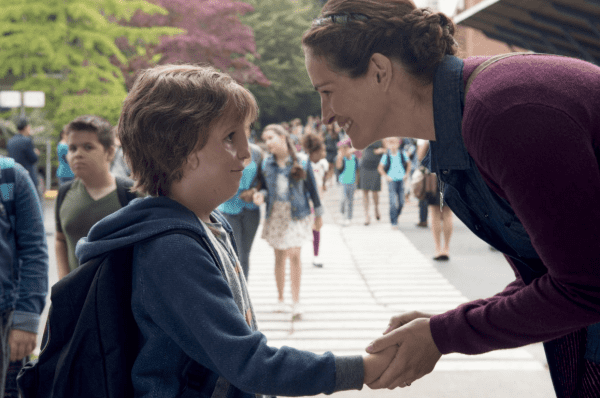 Being a mom sure isn't easy, and you know that even more now that you're a parent.
From the moment that little person is put into your arms, you know your life has been changed forever.
Nothing helps you understand your mother better than becoming a mother yourself, and also nothing helps you to be more grateful for her.
Now that you understand the strength, time and energy that is required to raise a child, it makes you so thankful for the woman who raised you.
There are so many things you probably want to thank this wonderful woman for, but here are eight things you specifically want to thank your mom for now that you're a parent.
This list is inspired by the character, Isabel Pullman, a strong and inspiring mother from the bestselling novel and played by Julia Roberts in the upcoming film, Wonder.
1. For her smile
"My mom smiled at me. Her smile kind of hugged me." -Wonder
It seemed that no matter how hard a day you were having or what trouble you had got yourself into when you saw your mom smile, it seemed all your troubles melted away.
Even if it was only for a second, you were and will always be grateful for her smiling face.
2. For letting you be you
"Isabel Pullman: You are not ugly, and anyone who cares to know you will see that.
Auggie Pullman: You just have to say that because you're my mom!
Isabel Pullman: Because I'm your mom it counts the most because I know you the most. Believe me." -Wonder
One of the best parts about being a parent is getting to see your child's unique and individual personality. His or her personality makes you laugh, roll your eyes or even sigh in exasperation, but you wouldn't change a thing.
You know you feel this way because your mom never wanted to change who you were either, and she let you blossom to the person you are today.
3. For her strength
"Mom says by then they had told her all about me. She had been preparing herself for the seeing of me. But she says that when she looked down into my tiny mushed-up face for the first time, all she could see was how pretty my eyes were." -Wonder
Being a mom is not a walk in the park. It comes with many difficulties, from lack of sleep to never having a moment to yourself.
Sometimes, it comes with even more difficulties, especially as your kids themselves face their difficulties and trials. Something you will always be grateful for is your mother's strength through those trials, and how you could always rely on her to be your rock in turbulent times.
4. For her wisdom
"We can't keep protecting him," mom whispered to dad, who was driving. "We can't just pretend he's going to wake up tomorrow and this isn't going to be his reality, because it is, Nate, and we have to help him learn to deal with it." -Wonder
Even dad would admit that mom always knew best, and it was true.
When you needed some sage advice or to know what to do in a situation, you knew you could always turn to your mom.
5. For her warmth
"One of the things I miss most about Via's friendship is her family. I loved her mom and dad. They were always so welcoming and nice to me. I knew they loved their kids more than anything. I always felt safe around them: safer than anywhere else in the world." -Wonder
You lived in the house where it seemed everyone wanted to be at, and you know a large part of that had to do with your mom.
She was always so warm and friendly to everyone she met, and that made everyone want to be around her.
6. For letting you go
"I took Baboo back to my room, and I laid him in my bed and taped the little note to mom on his chest. And then I covered him with my blanket so mom would find him later. The note read: Dear Mom, I won't need Baboo, but if you miss me, you can cuddle with him yourself. XO Auggie." -Wonder
You love your kids to death. Seeing them go can sometimes be hard, and you just want to have them with you forever.
But you also know how important it is to let kids be independent, and that usually means letting them go.
Now that you've felt these feelings yourself, you are even more grateful to your mom for being able to let you go and experience life.
7. For the laughter
"I like it when mom tells this story because it makes me laugh so much. It's not funny in the way a joke is funny, but when mom tells it, Via and I just start cracking up." -Wonder
Moms can be one of the funniest people on earth, and you will always be grateful for the way she made you laugh, whether it was unintentional or on purpose.
8. For her love
"You don't need your eyes to love, right? You just feel it inside you. That's how it is in heaven. It's just love, and no one forgets who they love." -Wonder
Most of all, you are grateful for your mother's love. You know that if it wasn't for her love, you probably wouldn't have the love you now have for your kids.
You know that love has made you the parent you are today.
No one can replace a mom, and you will be forever grateful for her.
In the novel and upcoming film, "Wonder," August Pullman has a mother who only wants the best for her son, especially with all the adversity he has to face. "Wonder" tells the inspiring story of a young boy with facial differences, who is determined to find his place at his new school and make his peers realize that he's just an ordinary kid. Don't miss the new film from Director Stephen Chbosky and starring Jacob Tremblay, Julia Roberts and Owen Wilson - in theaters November 17.