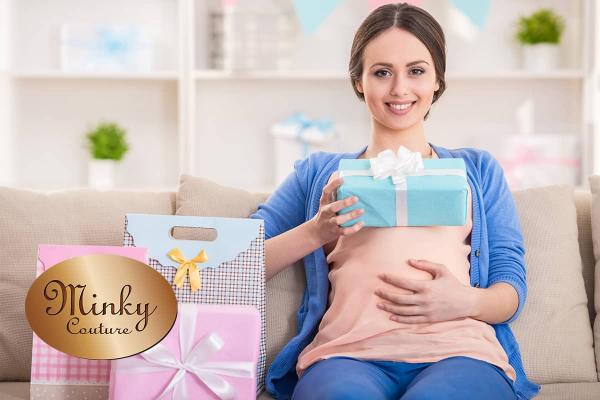 Any been-there-done-that mom knows while baby shower gifts are always welcome, they aren't always very useful. There are only so many days between birth and 3 months for a newborn to wear those tiny, adorable outfits.
They only need so many bottles of baby shampoo, packages of white onesies. Occasionally, some baby shower gifts might go unused.
Don't give your friends one more of those nice-but-not-very-useful baby shower gifts. Instead, choose from this list of gifts compiled by moms in the know.
Baby non-necessities
There are a lot of things a mom would like to have, but she probably won't ever buy for herself because they're not essential. But that's what the baby shower is for - those fun things mom wouldn't normally get. So don't worry about being too practical with your gifts, though things like diapers and wipes are always appreciated. Go ahead and get those giant flowered hair bands, adorable baby booties, and cuddly newborn blankets. Pamper mom and baby all you want. They deserve it.
A rock and play sleeper
For being so small, babies come with a lot of baggage. From clothes to cribs, swings to bouncers, car seats to teething toys, baby stuff quickly takes over the house. That is what's so genius about the rock and play sleeper. It combines a bouncer, a swing and even a bassinet if you really want it to, which means less money to shell out and less furniture cluttering up your living room. It rocks, vibrates, elevates the head (great for spitty babies) and it's portable. Best of all, it collapses for storage.
Newborn photography session
Babies don't stay little forever, but if you capture those tiny fingers, sweetly puckered lips, soulful eyes and pudgy legs while you have the chance, you never have to forget what it was like when your children were little. A newborn photography session is a must with every child. Since it can be pretty pricey, it's a nice gift for several friends or relatives to go in on.
Sleep sacks
Babies love the feeling of being held tightly. After all, they've spent the last nine months surrounded by warmth and comfort, and the last few months they lived in an increasingly confined space that held them snuggly in place. That's why many of them love being swaddled.
Babycenter.com says, "Swaddling can be used to help settle your baby down when she's overstimulated or when she just needs to feel something similar to the tightness and security of the womb." There are a lot of swaddling blankets out there, but sleep sacks are especially handy because they don't require a lot of wrapping or effort. Just zip the baby in and velcro the wrap in place.
Older sibling gift
Does the mom-to-be already have a child or several at home? With all this attention on the new baby, older siblings can feel a little left out. Along with a gift for the new baby, bring along something for the older kids that tells them they're still loved, too. Kids will appreciate the attention, and their mom will adore you forever. Consider choosing a book that might help a child prepare for becoming an older sibling, or a toy that would help them practice caring for a new baby.
Freezer meals
There's nothing a mom feels less like doing when she's got a new little one at home than making dinner. Besides wanting to spend every moment with a sweet tiny baby, a new mom will be exhausted from pregnancy, labor and sleepless nights. Freezer dinners enable her to pop something in the oven without much thought or effort, and they provide her with the nutrition and energy she needs to keep up with the demands of motherhood.
Mother of two Laurel Dewey said, "So many people give clothes and diapers; they forget about things the moms need too." She now gives freezer meals to all her new mommy friends.
Extra hands
Every mom wishes for an extra pair of hands at some point, but the need is especially great when a baby is small and needs lots of feeding, burping, changing and loving. What mom will really appreciate is some free service. Give her the gift of promised help and as soon as the baby is born. Set up a time to help out in whatever way she needs, whether that's making dinner, folding laundry or bouncing a baby so she can take a nap. The key is not to wait until she asks because many moms will feel pressured to show they can handle it all on their own.
Handmade items
There's something extra special about handmade gifts. A new mom will love seeing the product of your love and effort, knowing you've done it for her child. Handmade gifts often become heirlooms with stories of their creators attached to them. Mom will treasure that crocheted hat or pair of booties or handcrafted piece of artwork long after that baby is grown and gone.
Minky blanket
A Minky blanket might be one of the softest things you'll ever touch, second only to the silky smooth skin of a new baby. Not only are minky blankets the perfect material for caring for a fragile newborn, but they're also a welcome luxury for mom, who might spend most of her days in spit-stained T-shirts. She'll enjoy the chance to cuddle up with her little one under a soft blanket on the couch.
It's an especially great gift if you're a long distance from your loved one. It's a little like sending a warm, fuzzy hug through the mail. You might not be able to hold that baby or her mother in your arms, but you can make sure they're surrounded by a symbol of your love.
Order a personalized Minky blanket for the new mom or baby in your life today, from Minky Couture.