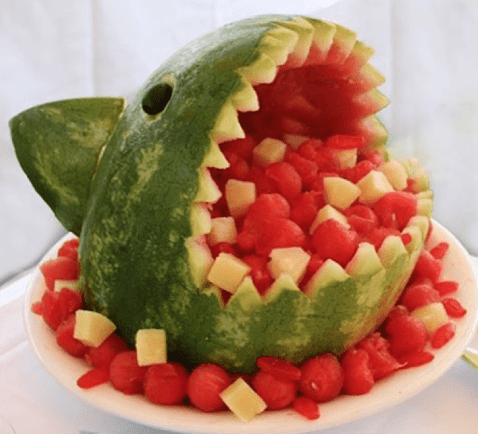 Watermelon is already an amazing summer treat as is, but it just got even better. People are innovative geniuses when it comes to shaping, styling and changing one of our favorite fruits to make it even more appealing.
Here are nine incredibly creative watermelon hacks that will leave you saying, "WHOAHHHH!"
(Warning: Only continue reading if you have a watermelon nearby that you can sink your teeth into because cravings will ensue.)
1. Watermelon pizza
This is a quick and easy watermelon hack. Simply slice some watermelon into triangles and lay the pieces down flat. Add strawberries, blueberries, bananas and other fruits for the toppings. Sprinkle salt or chili powder on top for additional flavor.
Kids will love this fun treat; you could even drizzle some chocolate syrup over the top of your pizza to make things that much sweeter.
2. Watermelon smoothies
A watermelon provides you with almost everything you need to make a quick and delicious smoothie. The only other things you'll need are an electronic hand mixer and a plastic bottle. Check out this video to see how it's done:
3. Watermelon popsicles
Stick a popsicle stick into the rind of your watermelon slice and you instantly have a watermelon popsicle. This hack makes for a more fun way to eat watermelon and it can give some flair to how you display watermelon at a BBQ or summer party.
As for a true watermelon popsicle, freeze your slices overnight after inserting the popsicle sticks into them. These can serve as a healthy alternative to store-bought popsicles, which are loaded with sugar.
4. Watermelon Jello
Impress your friends by making something they've most likely never seen before: Watermelon Jello. First, cut a watermelon in half and scoop out the watermelon flesh from each of the two halves.
Next, mix some Jello in a bowl and pour it into your two gutted watermelon bowls. Place the watermelon halves in the fridge for the amount of time you normally would when making Jello. Once settled, you're ready to cut your jiggly masterpiece into pieces for all to taste and be amazed by.
5. Cookie cutter creations
You can find cookie cutters in about every shape imaginable and they work perfectly on watermelon. This is another clever way to spice up your summer parties. It's also a fun activity for young kids.
Save the black watermelon seeds for adding eyes and other decorations to your creations.
6. Speaking of sharks..
You can search online and find all kinds of different watermelon carvings ranging from easy to difficult. The watermelon shark is one of the easier and less time consuming carvings that you can make.
First, slice the rounded edge off one side of the watermelon so that it will sit flat. Then cut out a big angled wedge for the shark's mouth. You can use this piece you just cut to make a fin, which you can later place on the back of your shark by using toothpicks. Next, scoop out the inside of the watermelon and carve teeth around the edges.
Make eyes by placing blueberries, grapes, or olives on the end of toothpicks and sticking them into the watermelon. The last step is to fill the shark's mouth with the remaining watermelon you scooped out, or with anything else you want.
7. Watermelon baby carriage
This is a good idea for summer baby showers or if you just want to have some fun. The video below does a good job of demonstrating each step of how to create your own watermelon baby carriage.
8. Watermelon pig
Put those extra craft supplies you have to good use. All this project requires are a of couple buttons, a pipe cleaner, foam paper and some good old-fashioned creativity.
9. Grilled watermelon
OK so you've tried grilled pineapple, but what about grilled watermelon? It's nothing like you would expect. Many people describe it as having a tender, somewhat meaty taste and texture. Grill it with some salt and other spices of your choice for a prime treat at your next BBQ.
Here is an excellent video showing how to grill your watermelon to perfection:
WHOA! Hopefully you said this at least once after looking at some of these mouthwatering hacks. Know any others? Share them in the comments below and remember just like Reese's peanut butter cups, "there's no wrong way to eat a watermelon."