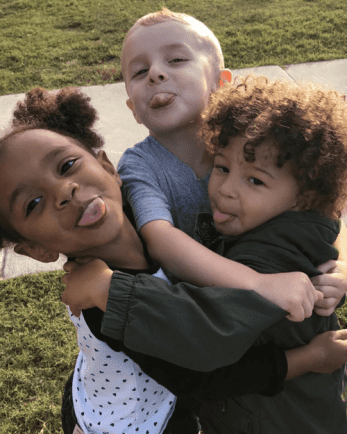 The world can learn a lot from the sweet innocence of children. Life is so simple in their eyes which gives them a whole different perspective on the world. Your child secretly wishes you knew these things:
1. A hug makes almost anything better
One of the best feelings in the world is getting a hug from a child when you're feeling down. Kids know when someone is upset, and their first reaction is to go in for a cuddle. Don't underestimate how physical affection can help another person. It won't solve all their problems, but just knowing someone cares can help them get through a rough patch.
2. Find happiness in the simplest things
You could buy your child a one-dollar ice cream cone and they'd be on top of the world. Each time a child giggles on the playground or picks a flower from the backyard for mommy, it should remind us all to stop and enjoy the simple things in life.
3. It's OK to be sad
Sometimes kids cry at the smallest things - they just aren't afraid to show their emotions. Don't bottle up your feelings. Find someone you trust to confide in because it can make a world of difference just to get those thoughts off your chest.
4. Keep trying
If you try to help a child do something, they immediately shout "I can do it!" Children want to be independent and they're determined to accomplish anything they set their mind to. If someone less than half our age can keep going when things get tough, we can, too.
5. Keep learning
Kids ask "why" about 30 times a day. They want to understand everything they see and hear. Keep learning throughout your life. Go to a museum, visit a new country, attend a sermon and never be afraid to ask questions.
6. Forgive easily
Kids forgive and forget almost immediately. They might get upset in the middle of a fight when their sibling takes their favorite toy, but once mom steps in and takes the toy away, both kids easily shrug it off and move on to something else. Learn to forgive easily not just for the other person, but also to give yourself peace.
7. Love everyone
Children are some of the most friendly and loving people you'll ever meet. They say "hi" to strangers and make new friends on the playground. Follow their example; help an elderly man load his groceries into his car and smile at a stranger on the sidewalk.
8. Be honest
Kids are sometimes a little too honest, but we can learn from their desire to tell the truth. Be honest in everything you say and do; remember, your little ones are watching and learning from your example.
9. Be yourself
Kids don't care what other people think of them. They do what they want and they're happy just being themselves. Embrace your talents and faults; they are the unique things that make you who you are.
As parents, you are expected to teach your children, but let them teach you, too. Look at the world from a child's perspective. If you're willing to listen, their little minds can help give us a new, simple outlook on life.